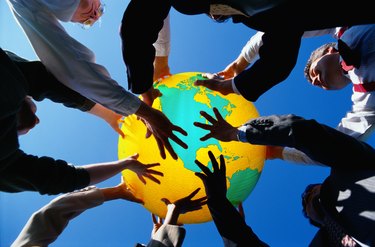 For some social-media-conscious business owners, discussing the importance of Twitter might be akin to swapping thoughts about the importance of breathing. Twitter has become not just a microblogging outlet for individuals and celebrities, but also for big brands, such as Coca Cola, Starbucks and Victoria's Secret. Twitter's popularity, though, goes beyond the global exposure it offers to people and brands. It's also a listening tool and a means for building community.
For Promotion
Imagine a tool that allows you to send pithy micro-messages to current and potential clients at any time of the day or night, with little or no objection to why and when you're sending it. That's Twitter. It's essentially constant permission to talk about you and your company. Granted, no one has to listen to you. But many people do. And that's part of why Twitter has become so important to businesses -- especially smaller ones. A 2011 KISSmetrics study showed that 50 percent of surveyed business owners reported gaining new customers from social media, most typically from Facebook or Twitter, and 64 percent of Twitter users said they were more likely to buy from the brands they follow. Furthermore, Twitter has a feature called Promoted Products, which strategically promotes your Twitter profile or specific tweets according to compatibility with other Twitter users.
For Listening
People join Twitter mostly for the purpose of talking. So businesses can tap into that by interacting with their Twitter followers, asking for feedback on products, services or general concerns. Showing your clients on Twitter that you're willing to listen strengthens their trust in your service and brand and adds a personal touch to your business reputation. Additionally, it empowers you to respond more quickly with solutions to any problems or frustrations your customers may experience with your business. Even if people don't interact with you directly on Twitter, you can monitor what they say about your business, helping you understand how the public views it.
For Helping
Quick and helpful feedback to customer complaints or problems can be complemented by other information that benefits your Twitter followers, even if it's not directly related to your business or industry. Here, again, is an opportunity to add a human element to your business -- by simply posting an interesting or humorous factoid that helps your followers get through another day, for example. Twitter also gives you the opportunity to add your voice to other conversations on the site, perhaps by answering a question that no one else knows the answer to, thereby establishing you and your company as authorities in your field.
For Insight
Outside of the interaction between you and your current or potential clients, Twitter helps businesses to better understand their competition. By observing competitors' Twitter activity, you'll gain insight into business and market trends and learn more about what you can do to distinguish your company and brand. Additionally, you may gain insight into the failures others have had, which could help you from making similar mistakes.