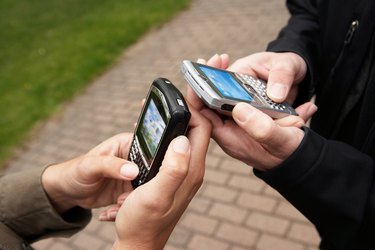 A common question within business communities, when confronted by all of the social media possibilities on the Web, is: "Do I really need that?" Not every business benefits from each social media site in the exact same way. Twitter is important for a business looking to expand social reach. Retweeting and lists, for example, reach potential customers far outside your normal marketing methodologies. Your followers become the distributors of your message, so their followers see mentions of your company as coming from a trusted source. This adds credibility to your company and spreads your message to previously untapped demographics.
Clients
Twitter is important for many businesses when their clients and customers are frequent Twitter users and likely to follow a feed. Search for your most important clients on Twitter by using the "Find Friends" search through the "Discover" page. If several of your high profile clients are on the site, then it will be useful to your company to use Twitter regularly. If you update your feed regularly, reply to direct messages and tweets sent to your company, and follow and comment on your client's Tweets, Twitter provides you with another means of deepening the relationship and communication opportunities between you and your major clients. Consider as well that if your current major clients are Twitter users, there is a good chance that other companies in your target demographic also use the site. Potentially, you could reach them by building a strong and highly followed Twitter account.
Real Time
Twitter allows you to reach your followers in something very close to real-time. Your updates are instantly posted to your Twitter feed, and anyone who checks feeds regularly also sees your Tweets immediately. This is a valuable tool for providing up-to-the-minute coverage of events, specials or breaking developments at your business. For a business in a fast-paced industry where being the first out of the gate is an advantage, this can give you an edge in a competitive marketplace. The ability to easily Tweet from almost every mobile device also allows you to maintain this real-time connection no matter where you're physically located.
Instant Feedback
Twitter is as valuable as a communication tool as it is a broadcasting tool. To send a message straight to your audience, your email list or website works to get content delivered. Twitter provides and encourages communication between multiple parties in a public forum, allowing you to get instant feedback from customers and potential clients. Because the communication on Twitter is open for everyone else to follow, it encourages openness and accountability in communications. Companies that consistently demonstrate these traits will gain more solid customer faith in the company brand. Twitter communications also reach a large community very quickly. As a result, a Twitter-savvy business can gauge reactions instantly, as well as provide customer service by responding to any consumer complaints, questions or concerns as soon as possible.
Driving Traffic
If you sell products or services directly through your website, or if having clients visit the site is important for your business model, then you'll want to generate as much traffic possible to that site. Twitter can be an effective tool in your kit of traffic driving methods, both by making the site link present in the Twitter universe and by diversifying content. If you've made a change that is worth Tweeting about, such as the addition of a new product or service, using Twitter will help deliver bursts of traffic following that content.