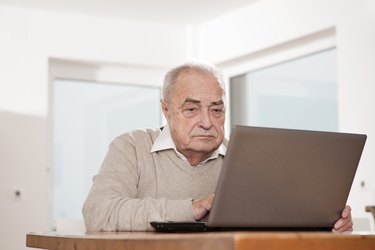 The expansion of the Internet has given rise to numerous online businesses. While the Web enhances your ability to reach a global marketplace, it does present some challenges and drawbacks. These disadvantages of the Internet may impede your potential success with certain types of online companies.
Limited Face-to-Face Contact
A major drawback of an Internet business is limited face-to-face contact with your marketplace. An online-only company never sees the majority of its customers. This lack of personal contact mitigates your ability to establish strong personal rapport with core customers. This disconnect exposes you to the risk of traditional companies offering a more engaging experience. It is also difficult for Internet company workers to feel empathy for their customers. It is hard to sense the genuine range of emotions customers experience via electronic communication.
Marketing Complexity
A January 2014 Inside Business 360 article indicated that the Internet marketing landscape is massive. You have plenty of opportunity for affordable communication. However, the Web is flooded with text and visual advertising. Standing out from the crowd is often more difficult than it is through traditional media. Click-through rates on online ads are notoriously low. The challenge for an online operator is to pick the right marketing tools that offer the best return on investment.
Negative Feedback
Negative feedback is more common online. Customers find it easy to post criticisms of Internet companies in an online venue. Some small-business owners avoid social media just because of its potential for negative sentiment. Inside Business 360 indicated that the potential that a damaging message goes viral is a major risk online. When consumers share negative brand messages on Twitter or Facebook, the potential for viral sharing of gossip and complaints is a real threat.
Price-Driven Competition
The Internet is a hotbed of price-driven businesses. One of the reasons many small operators choose to go online is to avoid the costs of buildings and infrastructure. Removing certain operational costs enables Internet providers to offer customers lower prices. When you enter a competitive industry on the Web, competing on anything other than price is a challenge. The significant influence of giant Amazon.com contributes to the difficulty in creating an image-driven identity. An April 2013 "Ad Age" article indicated the best bet for your business is to develop a personalized experience that is easily distinct from price-centered competitors.