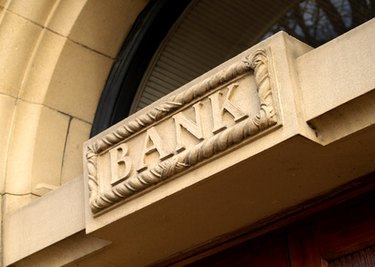 The advent of the World Wide Web in the mid-1990s brought information to our fingertips. Using the Internet, we can shop, pay bills, hear weather reports, play interactive games and keep abreast of breaking news. In recent years, both Internet-based and traditional brick-and-mortar banks have set up shop online, allowing their patrons to send, receive and monitor money in their accounts. According to the U.S. Department of the Treasury, there are three types of Internet banking: informational, communicative and transactional.
Informational Internet Banking
This fundamental level of banking does not allow patrons to view or maintain accounts, nor does it allow for communication between the financial institution and customers. Informational Internet banking simply means the bank provides basic information about its products and services, much like a brochure. This is meant for marketing purposes only, and there is no connection to the bank's main computer systems.
Communicative Online Banking
Communicative online banking allows for some communication between the patron and bank. However, this is typically limited to fundamental interactions such as account inquiries, new account updates, loan or mortgage applications, contact information updates and balances. Communicative online banking may connect with the bank's main computer systems.
Transactional Internet Banking
The most popular online banking type, transactional Internet banking offers all of the benefits of a traditional brick-and-mortar institution. This includes full control over your accounts—deposits, withdrawals, transfers, updates and online payments. Increased security measures now make Internet banking safe, secure and convenient, especially in the case of mobile online banking.