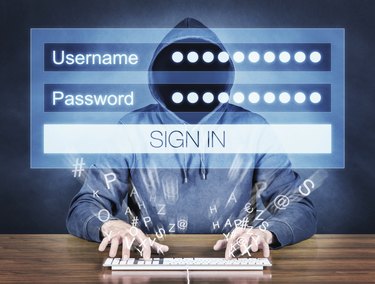 In 2014, CNN Money released a study showing that 47 percent of U.S. adults have had their personal information exposed by criminal hackers. This alarming figure equates to approximately 110 million people. With cybercrime on the rise, it's crucial to understand the best approach to reporting computer hackers. If you're the victim of a cybercrime or you have information about a criminal hacker, filing a complaint with the Internet Crime Complaint Center is the quickest and easiest way to report your information.
The Internet Crime Complaint Center
Identifying the correct local, state or federal law enforcement agency to handle a cybercrime can be a daunting task. The Internet Crime Complaint Center -- a collaborative partnership between the FBI and the National White Collar Crime Center -- states one of its primary goals is to provide cybercrime victims with "a convenient and easy-to-use reporting mechanism that alerts authorities to suspected criminal violations." IC3 essentially removes the confusion and intimidation from the complaint process by placing your complaint in the hands of the appropriate law enforcement agency.
File a Complaint With IC3
If you believe that you're the victim of a cybercrime, file a formal complaint with IC3 immediately. To file a complaint, visit the IC3 website and click File a Complaint. Be sure to read the information on the Filing a Complaint Web page before you proceed with the filing process. If you understand and agree to the advisory, click Accept. Fill out the Complaint Referral Form, provide as much information as you possibly can, and then click Next. Review your Complaint Referral Form for accuracy. If the information is true and accurate, enter your digital signature and click Submit.
After You File a Complaint With IC3
After you submit your complaint, IC3 will send you a confirmation email containing an ID and password combination that is unique to your complaint. Be sure to make note of these items, as they may be requested during future correspondence with IC3. You can also use your complaint ID and password to manage, change or download your complaint at any time.
IC3 cannot provide you with any information regarding the status of your complaint. After IC3 forwards your complaint to the appropriate law enforcement agency, you may be contacted by the receiving agency; however, this doesn't mean that your complaint will result in an investigation or a prosecution.
Alternative Cybercrime Reporting Methods
A number of law enforcement agencies investigate cybercrime. Start by contacting your local police department. The police department will likely refer you to one of the law enforcement agencies that accepts cybercrime complaints. They are:
FBI
The Internet Crime Complaint Center
U.S. Secret Service
U.S. Immigration and Customs Enforcement
ATF
U.S. Postal Inspection Service
Federal Trade Commission
Types of Cybercrime
Cybercrime comes in all shapes and sizes including:
Cyberstalking
Cyberbullying
Identity theft and theft of personal data
Cyber scams, fraud and phishing
Blackmail and extortion
Computer and network intrusions
Intellectual property theft
Child pornography
Malware distribution
Spam
Online sales of illegal drugs, firearms and explosives
Tips
Inform your bank or creditor of your situation immediately if you're the victim of identity theft or credit card fraud.
Contact your service provider immediately when one or more of your online accounts has been hacked,
When your computer network is breached or vandalized, contact your Internet service provider immediately.