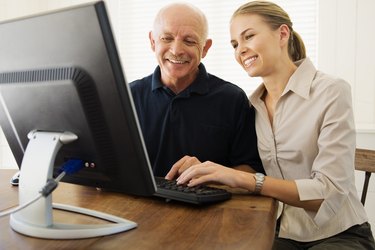 Paying with an electronic check is like writing out a paper check but paying online provides more security for you, your bank, and the merchant. When you use an e-check you do not have to share any details about your account numbers like you do with credit card payments. The online payment gets sipped directly from the bank account to the hotel merchant's booking system. When making the hotel room booking online, the shopper give details from personal checks in an online form.
Step 1
Inquire with the hotel merchant first. Because the electronic check is such a new payment option, not many hotels accept this form of payment. As of 2008, American Airlines accepts electronic check purchases online. Likely, more hotels will follow if the payment option is a success.
Step 2
Pay with a paper check online. Once you have secured this payment type with the hotel, enter the bank routing and account numbers printed on the bottom of the paper check to the appropriate online payment form. Fill in your address and driver's license (or state ID number) for security. That information goes through an electronic check services security scan and process through the bank. For the complete rules for that particular hotel, check its website and procedures for verifying your payment.
Step 3
Use PayPal to purchase a hotel room online with an e-check. Register an account with PayPal, a secure and reliable online payment plan that allows users to pay and receive money online. Log on to your new PayPal account. Click "Send Money." Once you have chosen the hotel room you would like to book and have approved this form of payment with the hotel vendor, enter the required information. Click "Continue," and then click "Change." After you select the eCheck option, hit "Continue." To complete the transaction, review the payment information and click "Send Money."