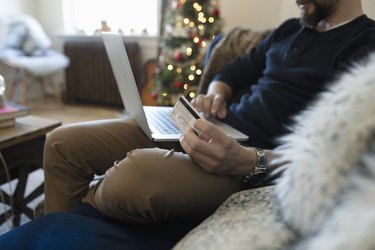 The internet is set up for electronic transactions, so you'll have a tough time paying by paper check. However, using the information printed on your check, you can make some online purchases, particularly when it comes to cash cards. Whether you have a payroll check or you want to write a personal check, you can find places that accept checks online to convert them to cash card funds.
Pay With Check Online
Before you start looking around for online retailers that accept checks, first determine why you want to pay that way. If your goal is to mail a paper-based check, you may be limited in options. But if you just want the money to come out of your checking account, an electronic check or direct debit of your checking account broadens the possibilities.
If you're open to buying online with a checking account number, an option like PayPal will add to the sites you can use. The money will come directly from your checking account as an e-check. If you shop on sites like Amazon, you can reload your existing card balance by adding a checking account. You'll even earn rewards for doing so.
Mobile Check Deposit Options
Many of the places that accept checks online ask you to use an app to snap a photo of the check. One such site for cash cards is Visa, which lets you use the mobile check deposit feature on the app for your Visa card to load your prepaid card using a check. You can also reload your Visa card balance at ATMs, bank branches and some retail locations using money from your checking account.
Card.com's prepaid MasterCard will also let you add money merely by snapping a photo of a check. You just take a picture of the check and use the money once it has passed through the usual verification process. For a quick local option, take a government-issued or payroll check and your Card.com prepaid card to any Walmart and you can load your card at the cash register.
If you want to pay with a check online, the best resource may be your own bank. Wells Fargo lets you buy online with a checking account number using the Wells Fargo Mobile app. You can also simply log into your Wells Fargo bank account and transfer the funds from your checking account to your prepaid card.
Checking Funds Transfer Options
Walmart's MoneyCard is an easy way to load money from your checking account onto a cash card. You can't buy online with a checking account number, but you can add money through direct deposit. Walmart also lets you reload your cash card at a register in any of its stores using a personal check.
If you have a PayPal account, the company's prepaid MasterCard could be a quick way to transfer the funds to usable cash. You can set up direct deposit, or you can sign up for a PayPal Cash Plus account to snap photos of checks and turn them into cash. After a short verification process, the funds you deposit will be ready to use.