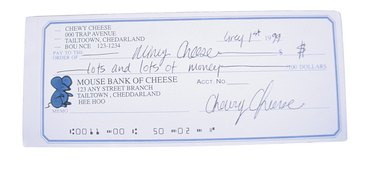 Most major banks now give you the option to deposit checks directly on your iPhone, reducing the number of trips you need to take to the bank or ATM. Whether mobile check deposits are offered depend on with whom you bank. Bank of America, PNC, SunTrust, Chase, M&T and U.S. Bank are some of the banks that offer iPhone apps to deposit cashier's checks directly into your bank account.
Setup
Depositing a cashier's check into your bank account using your iPhone can be completed in just a few steps. The process may vary slightly from bank to bank. You'll need to download your bank's mobile app and have an online account registered before you can begin. Online account registration can usually be completed directly on your bank's website. After you've installed the app, log in using your username and password to access your bank accounts and mobile banking options. If mobile check deposit is offered, you should see it after you've logged in.
Take a Picture
Mobile deposits are completed by taking a picture of the front and back of the cashier's check you want to deposit, with the routing and account number clearly legible. Just like depositing a check at the bank or ATM, you'll need to endorse the back of the check first. You may have to enter the amount of the check manually, and choose the bank account into which you want to deposit the check. Most banks recommend holding onto the check for an additional 10 days after the mobile deposit has been completed.
Confirmation of Deposit
After you've deposited the check into your bank account, you should see the mobile deposit immediately. Funds may not be available for a few days or until the check clears the bank. The mobile deposit policy depends on each individual bank, so contact customer service if you have any questions about the process or holding times.
Common Problems
Mobile deposits rely on your iPhone's camera to take a picture of the front and back of the cashier's check. If you try to take a picture in low light or the photo is blurry, your bank may not accept the check. Most mobile apps will generate an error message if the picture does not meet the requirements. In addition, most banks limit the amount that can be deposited using a mobile app. For example, Bank of America has a mobile deposit limit of $5,000, which can be less if you're a new customer.