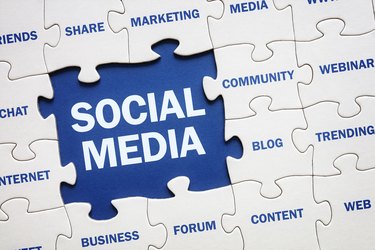 Facebook was founded in 2004. It has grown into a global phenomenon, counting more than 750 million users, including approximately 70 percent from outside of the United States. The social networking site was started with a much more modest purpose. Founder Mark Zuckerberg developed Facebook while he was a student at Harvard University initially as just a social networking site for the university's students.
Stated Mission
Facebook's stated mission is "to give people the power to share and make the world more open and connected." On its site, Facebook explains that it believes that increased connection between people through their site will lead to better understanding between disparate groups. Facebook is designed to be free for its users; it should give them control of their information and who can access it, according to the company's statement of principles.
Individual Users
Personal engagement in an online space is the core purpose of Facebook. It serves to allow individual users to connect with friends in a simple, shorthanded manner, sharing thoughts, news and multimedia content with them. Facebook allows users to connect with many of their friends at once through posts that go out to a set list of individuals; it allows allows them to keep up with their friends and connect directly with individuals through direct messaging. It also lets individuals connect with public figures and businesses.
Facebook for Marketing
Facebook allows businesses, organizations and public figures to connect with customers, fans and constituents through the website. Businesses and other brands create pages where they can post content, provide organizational news, offer deals, introduce products and manage customer service relationships. They also can reach a large number of people with targeted advertising, creating ads specifically for Facebook that are tailored to appear on the pages of specific groups of people they hope to reach.
Facebook as a Business
Facebook is a business that has a purpose of creating revenue, enriching investors and providing jobs. Because it does not charge users for having Facebook pages, it needs to generate revenue from other sources. Facebook produces most of its revenue from advertising, including ads for both large and small advertisers. Facebook's advertising products include self-serve advertising, in which advertisers create and organize their own Facebook campaigns through an online service and interactive ads. Facebook also makes money through its virtual gift store, which allows users to buy virtual gifts for each other, according to AllFacebook.com.