Nearly two-thirds of global viewers watch some video-on-demand programming, with 43 percent watching VOD content every day. Whether shows arrive from Netflix, Hulu, YouTube or any of the dozens of other on-demand platforms, streaming video is the new normal. While you can stream content and run apps on your smartphones, tablets, desktops, laptops and even your smart fridges, not all TVs are equipped with smart capabilities. That's where streaming devices like Chromecast, Roku, FireTV and Apple's solution, Apple TV, come into play.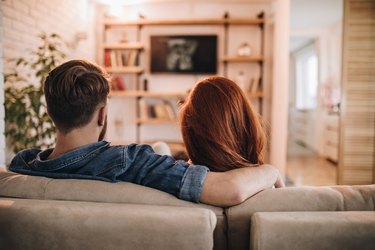 What Is Apple TV?
Apple TV is a sleek little device known as a streaming box. These devices allow you to download media, apps and games and view or play them on your TV.
Apple TV includes a Siri-equipped remote, runs in full HD, and features 32 gigabytes of onboard storage for $149 as of mid-2018. For $179 or $199, you can upgrade to the Apple TV 4K, which runs at an increased resolution of 2160p and features 4K HDR support, as well as an optional increased 64GB capacity.
How Does Apple TV Work?
Once you get your Apple TV out of the box, you hook it up to your TV using an HDMI cable, plug in the power cord and configure the Apple TV with your Wi-Fi connection. Then, you're able to download a wide range of apps from the device's dedicated app store to view on your TV. These apps typically let you watch streaming video or listen to streaming music, but you can also download games, which you play with the remote or an optional controller depending on the game, and apps that include everything from weather services to fitness companions.
Apple TV's AirPlay features also let you mirror your iOS phone, iPad or Mac screen to your TV using your Wi-Fi network by tapping the AirPlay symbol on your device. Just make sure your device is connected to the same Wi-Fi network as your Apple TV.
Can I Use My Apple TV Without Wi-Fi?
As a streaming box, Apple TV is very much a Wi-Fi-focused device. By nature, you can't stream online content without the online part.
However, you have some limited options if you find yourself without Wi-Fi. You can still play games or use apps that don't require online integration if you previously downloaded the game or app to the Apple TV's internal storage.
Can You Do AirPlay Without Apple TV?
Apple TV works hand in hand with AirPlay, a built-in software feature on Macs and iOS devices that also streams to smart speakers.
In addition to streaming music from your iOS device to your Apple HomePod smart speaker, you can also send your music to compatible smart speakers from brands like Beats, Bang & Olufsen, Bose, Denon, Polk, Sonos and others via the Home app.
Using Siri, you can stream your music to specific HomePod speakers in different rooms. The AirPlay 2 Control Center lets you control the volume and make other tweaks on any speaker.
Which Channels Are Free on Apple TV?
While streaming is at the heart of the Apple TV experience, the bulk of free-to-download streaming apps – such as Netflix, Hulu and Amazon Prime Video – require a not-so-free subscription.
Fear not, Apple fans on a budget are not limited to YouTube for free entertainment options, although YouTube is free and available. Comedy Central's app offers a variety of free shows and stand-up specials, and TED hosts a cornucopia of enlightening lectures. For long-format stuff, Rewinder has a large library of public-domain feature films, while Crackle and Tubi offer movies and shows from recent decades; both are free with ads. Viewster caters to anime fans who don't mind a few commercials here and there, and Pluto TV – also ad-supported – acts like a cable TV service, featuring scheduled programming on specific channels.