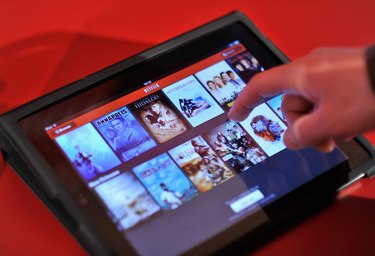 While Apple TV has its own Netflix app, using it isn't always convenient. If you are visiting a friend, or if you already have the maximum number of devices registered to your subscription, it's often easier just to stream Netflix from a Mac computer or iOS device to an Apple TV using AirPlay. As of May 2014, this is the only way to stream video with AirPlay. You can't stream from a Windows PC, nor can you stream video to anything except an Apple TV.
Step 1
Connect an Apple TV to your HDTV using an HDMI cable. Navigate to the HDMI input source with your TV's remote control. Follow the on-screen prompts to connect the Apple TV to your Wi-Fi network.
Step 2
Ensure the device you use is connected to the same Wi-Fi network as the Apple TV. On an iOS device, launch "Settings" and select "Wi-Fi" to connect to the network. On a Mac computer, click the "Network" icon at the top of the desktop.
Step 3
Download the free Netflix app on your iPhone, iPad or iPod Touch and log in with your Netflix account. On an Mac computer, open a Web browser and sign into your account.
Step 4
Select any of the thousands of movies and TV shows on Netflix. Tap or click the "Play" button, then immediately tap or click the "AirPlay" icon, which looks like a rectangle with a triangle at the bottom. Select "Apple TV" from the AirPlay menu. Wait up to five seconds for the device to connect to the Apple TV.
Step 5
Pause, rewind or fast forward Netflix videos using the controls on your device or the Apple TV's remote control. To adjust the volume, you need to use your TV's remote control.