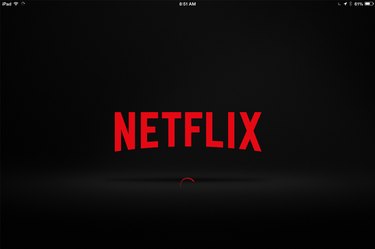 There's no reason to be tethered to your computer to watch your favorite Netflix flicks. With an Apple iPad running iOS 8 and a Wi-Fi Internet connection, you can watch Netflix in any room of the house. Connect an adapter cable to any iPad mini, or an iPad 2 or later, and you can even stream Netflix to your HDTV.
Getting Netflix
Netflix has a free app available in the iPad's App Store. To find, it just type "netflix" in the App Store's Search field. A lot of apps may be listed, but the official Netflix app should be the very first entry, with the company's distinctive logo and "Netflix, Inc." displayed. Tap the "Get" button and enter your Apple ID password if prompted. It's a small, 27.5MB app, so it should only take a minute or two to download.
Creating an Account
The first time you launch the Netflix app, you're prompted to enter the email address and password associated with your Netflix account. If you don't yet have your own Netflix account, you'll need to create one before you can use the app. Open any Web browser, including Safari on your iPad, and go to Netflix. Click the "Start Your Free Month" button. Although the first month is free, you do need a valid credit card to create an account. If you find a video you want to watch in Safari, tap the "Play" button and Netflix automatically launches the video in the Netflix app.
Using Netflix
Getting around the Netflix app is pretty straightforward once you're logged in. Scroll through the titles to find a video you want to watch, tap the video to see a description and then tap the "Play" button to begin watching it. Tap the "Search" field and use the iPad's virtual keyboard to search for movies and TV shows by title, director or actor.
If you pause a video, you can resume playing the next time you open Netflix, either on your iPad or on another device. Movies you save to your list, your taste profile and history are associated with your account, not any one device.
Depending on your subscription, you can watch one Netflix video in high definition on an iPad while someone else in your family is watching another HD Netflix video on another device.
Watching on the Big Screen
There are a couple of ways to watch Netflix running on an iPad on your TV. If you have an Apple TV, you can stream using AirPlay by tapping the "AirPlay" icon once a video starts playing on your iPad. Using this method is appropriate if you're visiting someone and don't want to sign in with your Netflix account on your friend's Apple TV.
A second way to watch an iPad's Netflix app on a TV is to connect the iPad to a TV with an Apple Digital AV Adapter and an HDMI cable. This setup sends both the video and the stereo sound to the TV.