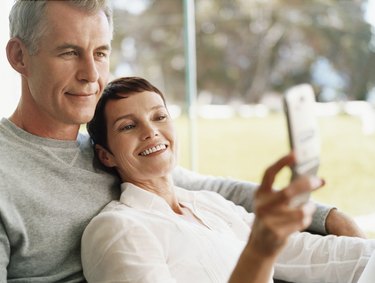 While there are many apps that provide football scores, schedules and even video highlights, when it comes to watching live NFL or college football games, options are more limited. This is because game coverage is almost always licensed to specific broadcasters. Which games you can access depends on what subscription you are willing to buy, or which cable TV or Internet service provider you use. In 2014, most sports broadcasting apps are affiliated with specific providers.
NFL Apps
The NFL has two apps that football fans can use to watch live games on an iPhone or iPad. The NFL Game Pass app gives you access to all NFL games, live and on-demand, provided you have a Game Pass subscription. The NFL Mobile app also has live games, but these are only available to Verizon customers with a paid subscription. Scores, stats, schedules and other features don't require a paid subscription. Both apps use your iPhone's GPS technology to verify your location and may restrict access to some games based on league blackout rules.
NFL Sunday Ticket
DriectTV subscribers who have purchased NFL Sunday Ticket Max can use this app to access their favorite games on an iPhone. In addition to live streaming of NFL Sunday Ticket games, the app also includes the Red Zone Channel and can give you on-screen alerts whenever there is an important play by one of your favorite teams. As with any NFL broadcast, local games are subject to NFL blackout restrictions. Only Sunday daytime games are available. Games played on Sunday nights or other days aren't available with this service.
ESPN College Football
College football fans can access games covered by ESPN using the WatchESPN app. While the app is free, access is restricted to users who have a cable subscription with a qualifying cable TV or Internet service provider. Using the WatchESPN app, you can watch any ESPN broadcasts, including college football, on each of its stations like ESPN2 and ESPN3. This app also integrates with the ESPN College Football app, which focuses exclusively on college football, with clips, highlights, schedules and scores.
Other Apps
Broadcasters that are licensed to cover live NFL and college football games usually make these games available for live streaming on their own sports apps, including the NBC Sports Live Extra, CBS Sports and FOX Sports Mobile apps. When you download and install these apps, you should be prepared to enter your cable TV or Internet service contract information in order to access live content. As with any sports broadcast, blackout restrictions may apply to some games.