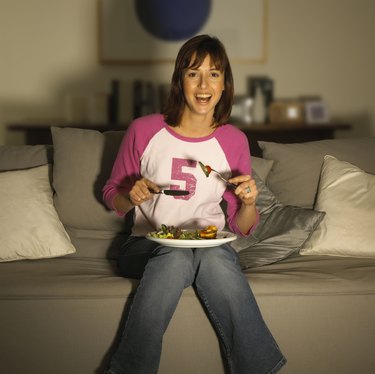 Hulu has transformed the way some people watch TV. Instead of waiting for your favorite show to come on or recording it so you can watch it later, with Hulu you can simply go on the Internet and watch the show at your leisure. Hulu's basic website is available for free and provides a limited number of shows, while with a subscription to Hulu Plus, you can access whole seasons of many programs. With the right hardware, you can stream Hulu to your TV so you do not have to watch on your computer.
Wires and Ports
In order to connect your computer to the TV so that everything you display on the computer shows up on the TV's screen, your computer must have an output port that matches an input port on the TV. HDMI, DVI and VGA ports work with HDTVs and composite video and S-Video ports work with standard definition TVs. Cables for the corresponding ports are available at electronics retailers. Note that DVI, VGA and component video connections do not support audio signals, so if you are using one of these port types you must connect audio from the PC to the TV or other speakers with audio cables.
Wireless Transmitters
If you do not want a mess from wires, purchase a wireless transmitter that sends media from your computer to your TV. Several types are available from electronics retailers.
Other Devices
If you have an Internet-ready device that connects to your TV such as a Microsoft Xbox 360, a Sony PlayStation 3 or a Blu-ray player from many manufacturers, you can stream Hulu through it to display on your TV. Note that you must purchase a monthly subscription to Hulu Plus, as this service is not available for Hulu's free streaming.
Internet TVs
Some HDTVs such as models manufactured by Samsung, Panasonic, LG and Vizio can connect to the Internet directly, either via Ethernet cable or wireless signal from a router. If you have such a model, subscribe to Hulu Plus to stream Hulu videos to the TV with the Hulu App without needing any additional device.