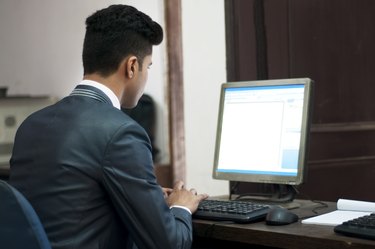 When you create a free Apple iCloud account, you have the option to open an @icloud.com email address with Apple. While many people associate iCloud services with Apple devices, you can check your iCloud email from a PC through your Web browser by visiting the official iCloud website. Alternatively, you can link your iCloud Mail account to Outlook.
iCloud Website
Step 1
Open the Web browser on your PC and visit Apple's official iCloud Web page at icloud.com.
Step 2
Sign in with your iCloud username and password.
Step 3
Click on the "Mail" icon to access your iCloud email account.
Step 4
Click on an email message to view its contents.
Set Up iCloud Mail With Outlook
Step 1
Download the iCloud Control Panel for Windows from Apple's support website (link in Resources) and install it on your PC.
Step 2
Launch the iCloud Control Panel. Enable "Mail, Contacts, Calendars, & Tasks" and click "Apply."
Step 3
Launch your Outlook software and select your iCloud account in the left navigation pane.