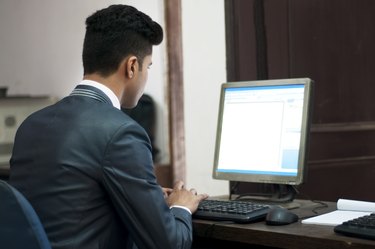 When you create a free Apple iCloud account, you have the option to open an @icloud.com email address with Apple. While many people associate iCloud services with Apple devices, you can check your iCloud email from a PC through your Web browser by visiting the official iCloud website. Alternatively, you can link your iCloud Mail account to Outlook.
iCloud Website
Step 1
Open the Web browser on your PC and visit Apple's official iCloud Web page at icloud.com.
Step 2
Sign in with your iCloud username and password.
Step 3
Click on the "Mail" icon to access your iCloud email account.
Step 4
Click on an email message to view its contents.
Set Up iCloud Mail With Outlook
Step 1
Download the iCloud Control Panel for Windows from Apple's support website (link in Resources) and install it on your PC.
Step 2
Launch the iCloud Control Panel. Enable "Mail, Contacts, Calendars, & Tasks" and click "Apply."
Step 3
Launch your Outlook software and select your iCloud account in the left navigation pane.
Tip
Your email address may differ based on when you created an iCloud account. Former Mobile Me service users may have email addresses that end in @mac.com, @me.com or @icloud.com. All these email address variations continue to work. Messages sent to any of these email address variations share the same iCloud account and inbox.
Email aliases cannot be used to sign in to your iCloud account. You must sign in with your real iCloud address or use the Apple ID tied to your iCloud account.
Warning
The information in this article applies to Apple's Web-based iCloud email service, not to be confused with Apple Mail, the OS X email client software.