ITunes is the program used by most people to transfer files onto an iPad, but it's not the program used by everyone. If you don't want to use iTunes or don't have access to the program on your computer or mobile device, other solutions exist, including iCloud, email and a host of third-party apps and platforms.
iCloud
Step 2
Open iCloud for Windows and sign in using the same account you use on your iPad.
Step 3
Place a check mark next to iCloud Drive, click the check boxes corresponding to other items you want to transfer onto your iPad and then click the Apply button.
Step 4
Press Ctrl-E on your computer to open the File Explorer app and then drag and drop items into the iCloud Drive folder to make them accessible from your iPad.
Step 5
Open the Settings app on your iPad and select iCloud on the main menu.
Step 6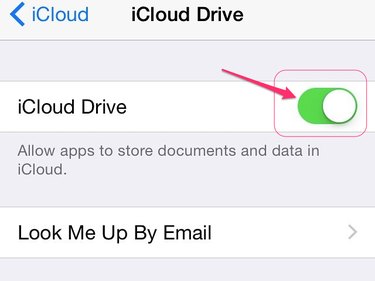 Toggle the iCloud Drive switch to the On position.
Step 7
Enable any other individual file types you want to sync between your computer and iPad.
Step 8
Open a compatible app on your iPad and use the app's file menu to open the file you want to view. You can also access your files by logging in to the iCloud website using the iPad's Web browser.
Email
You can also use the Mail app on your iPad to send and receive files between your computer and other devices. Attach the files to a new email message on your computer or mobile device and send the message to an email account accessible on your iPad. Open the email on the iPad and download the attachments.
Third-Party Apps and Platforms
You can also use file-sharing platforms such as Dropbox, OneDrive and Google Docs to transfer files between your iPad and other devices.
Certain apps that are connected to other cloud services can also be used to sync relevant data onto the iPad. If you subscribe to Microsoft's Office 365 platform, for instance, you can download the official iOS app and use it to share files between the iPad and other devices on which you use Office programs.
There are also a number of third-party data-syncing apps available through the App Store that are designed to transfer content onto the iPad. These include PhoneTrans, CopyTrans and Appandora. Proceed with caution when using these apps, however, as they are not officially sanctioned by Apple and require you to jailbreak your iPad.