It is very important for iPad owners to keep their devices protected all the time. Apple recommends that users setup a passcode to keep their device secure when it is turned on. Every time the iPad is turned on, it asks for a passcode that only the owner will remember. In addition to letting users create a general passcode, iPad also lets users password protect different apps for an additional layer of security.
Step 1
On your home screen, select the Settings icon. This gives you access to your iPad's general settings for photos, Safari, videos, email and iPod.
Step 2
Choose General, then Restrictions. A list of installed apps pop up on your iPad. Select Enable Restrictions to be able to set a password on a specific app.
Step 3
Upon enabling restrictions, a Set Passcode prompt pops-up similar to the password prompt when you switch on the device. This is where you enter a 4-digit passcode.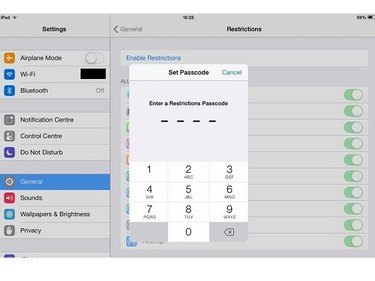 Step 4
Select the apps to be protected by the new passcode, then tap Done to finish the process.