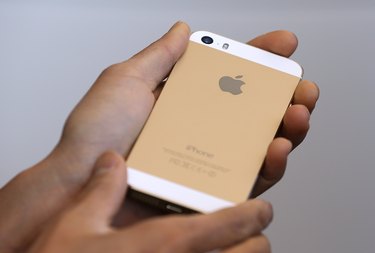 The best antidote for iPhone separation anxiety is deactivation. You accomplish this by erasing the iPhone's contents and settings -- effectively reinstating the device's original factory conditions and rendering it unusable until it's set up again. Whether you're selling your iPhone, sending it out for repair or trying to find it, deactivation ensures that its stored information and usage remains personal and restricted. You can deactivate an iPhone directly using iOS and iTunes and remotely via iCloud.
Reset iPhone With iOS
Step 1
Tap "Settings" on your home screen, followed by "General." Scroll to the bottom of the screen.
Step 2
Touch "Reset." The screen displays several options.
Step 3
Choose "Erase All Content and Settings." Next, enter your Apple ID and password when prompted. This command removes all your data, information and settings from the iPhone, including the Find My iPhone Activation Lock feature on an iPhone running iOS 7. The device restarts after it's erased, displaying the Slide to Set Up welcome screen.
Restore iPhone With iTunes
Step 1
Tap "Settings" on your iPhone, followed by "iCloud," if you've enabled the Find My iPhone service on your device. Toggle the "Find My iPhone" switch to the off position. Enter your Apple ID password when promoted and then tap "Turn Off."
Step 2
Launch iTunes on your computer and connect your iPhone using its supplied USB cable. Choose your iPhone in iTunes.
Step 3
Click "Restore iPhone" on the Summary pane. Choose "Restore" to confirm you want to reinstate the device's factory settings. The device restarts after it's erased, displaying the Slide to Set Up welcome screen.
Remotely Wipe iPhone with iCloud
Step 1
Navigate to iCloud.com on a Web browser. Sign in with the Apple ID you use for the iCloud service on the iPhone. Choose "Find My iPhone."
Step 2
Select the iPhone from the All Devices drop-down menu to display the iPhone's Info screen.
Step 3
Click "Erase iPhone" on the Info screen and type your Apple ID password when prompted. If you're running iOS 7 or later, enter a phone number and message to appear on the screen after the device is erased. The remote wipe occurs immediately on an iPhone that's online -- or as soon as it comes online -- effectively deactivating it. Watch for an email confirming erasure on your Apple ID email address.
Tip
A remote wipe via iCloud can only occur if you've enabled Find My iPhone on it and the device is online.
To recover the iPhone data and settings that you erase, back up your device on iCloud or iTunes before wiping and deactivating it.
If you run out of power before erasure is complete using iOS, restore the iPhone using iTunes. Then, connect the iPhone to a power source and repeat the steps to reset via iOS.
If a lost iPhone is unrecoverable, ask your carrier to suspend wireless service.
Warning
Information in this article applies to iPhones running iOS 7.1. It may vary slightly or significantly with other versions or products.