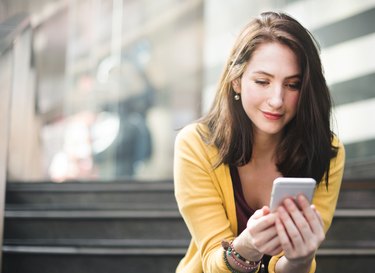 Apple designed the iPhone with a passcode feature to prevent unauthorized access to your important information. When you forget your iPhone passcode, the device becomes disabled and unusable. A disabled iPhone cannot open the iPhone springboard or be jailbroken for third-party applications. The iPhone passcode needs to be removed enable it. Once your iPhone is no longer disabled, you can jailbreak it with free software from the Internet.
Remove Passcode
Step 1
Establish a connection between your iPhone and iTunes software using your USB cord. Launch iTunes on your computer. Your iPhone displays in the left-hand column under the "Devices" header.
Step 2
Click the "Sync" button on the main iTunes screen for your iPhone. This syncs the information on your iPhone to your iTunes library and creates a backup of your information.
Step 3
Right-click your iPhone in the left-hand column. Select the option to "Restore From Backup."
Step 4
Choose the backup that you just created. Confirm you want to factory restore from a backup. Your iPhone restores your iPhone and removes the passcode settings from your iPhone. Your iPhone is no longer disabled due to a forgotten passcode.
Jailbreak iPhone
Step 1
Locate your firmware version on your iPhone. Open the "Settings" application on your iPhone. Tap the "General" line. Open the "About" menu. Scroll down to the version to locate your firmware version.
Step 2
Choose the jailbreak software you want to use. Not all jailbreak software work for every firmware version. Verify with the software website that it works for the firmware version your iPhone uses. Common jailbreak software include Greenpois0n, Redsn0w and Sn0wbreeze.
Step 3
Download the jailbreak software to your computer. Open the download file to begin the installation process.
Step 4
Turn your iPhone off. Plug it into your computer using your USB cord.
Step 5
Open the jailbreak software on your computer. Follow the on-screen prompts to put your iPhone into device firmware update (DFU) mode. Enter DFU mode by holding the "Home" button and the "Sleep/Wake" button at the same time for approximately ten seconds. Release the "Sleep/Wake" button. Continue to hold the "Home" button. Once in DFU mode, the jailbreak software takes over and jailbreaks your iPhone. Your iPhone restarts when the jailbreak is complete.