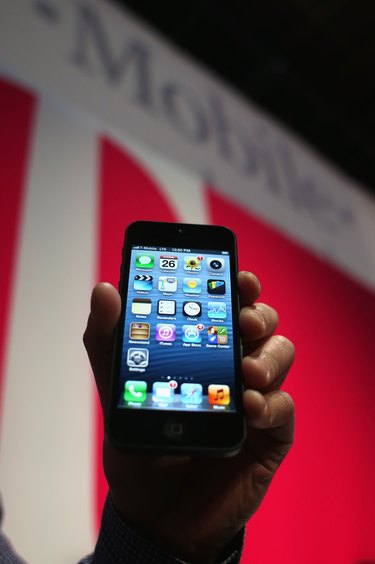 The iPhone's screen is its most important component. Without a functional screen, you are hard pressed to send important messages, make and receive calls or check your email. If your iPhone's screen has gone dim and you are having trouble viewing the display, try a few things before taking the phone in for service. If you use your phone for work, keeping it operational is a high priority.
Step 1
Restart the iPhone by holding the "Sleep/Wake" button until the red slider appears. Slide your finger across it to turn off the phone. If your screen is so dim you cannot see the red slider, place your finger on the left side of the screen about one-half inch down from the top and swipe your finger across to the right side of the screen. Turn the iPhone on again by pressing the "Sleep/Wake" button.
Step 2
Reset the phone if you are unable to restart it or if the screen is still dim by holding the "Home" and "Sleep/Wake" buttons simultaneously for 10 seconds or until you see the Apple logo on the screen.
Step 3
Tap the "Settings" icon on your iPhone's home screen and select "Brightness and Wallpaper." Move the brightness slider to the right to brighten the default screen brightness.
Step 4
Turn off "Auto-Brightness" in the "Brightness and Wallpaper" menu. This prevents the phone from dimming in bright areas.
Step 5
Update the iPhone's operating system by touching "Settings," selecting "General" and then "Software Update." If your brightness issue is software related, this might solve it.
Step 6
Connect the iPhone to a computer and open iTunes if the problem persists. Select the iPhone from the iTunes device menu, click the "Summary" tab and choose "Restore." This performs a full factory restore on your phone. This process removes all your files and data from the iPhone. If you have a backup, you'll be able to restore them after the restore process.