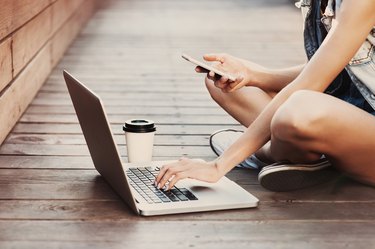 As an owner of the iPhone smartphone, you can configure a pass code used to lock and secure your device. Each time the phone is turned on, a lock screen appears requesting that the correct pass code be entered before gaining access to the features of the phone. By default, the phone vibrates and displays the message "Wrong Passcode" when an incorrect pass code has been entered. The vibration can become annoying and unnecessary and may be removed based on your preference.
Step 1
Press the "Home" button on the front of the iPhone.
Step 2
Enter the four-digit pass code when prompted. The home screen appears.
Step 4
Slide the button next to "Vibrate" under the "Ring" section to the "Off" position.
Step 5
Tap the "Settings" button to save your changes.