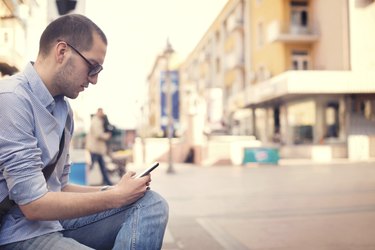 Adjusting the brightness on your iPhone tailors visibility to suit your environment. Reducing screen brightness can also help to conserve battery life. Screen brightness settings can be adjusted through the Display & Brightness section of the Settings app or using the Control Center.
Adjusting IPhone Brightness Using the Settings App
To adjust screen brightness from the Settings app, start by tapping the "Settings" icon on the iPhone's home screen. Tap "Display & Brightness" in the Settings app and then drag the virtual slider to adjust the brightness of your screen. Drag the slider to the left to reduce brightness and to the right to increase brightness.
Adjusting iPhone Brightness Using the Control Center
Launch the Control Center by swiping up from the bottom of your screen. Tap and drag the brightness slider to adjust screen brightness. When you are finished, swipe down to close the Control Center or press the "Home" button.
Enabling Auto-Brightness
Your iPhone also has an ambient light sensor that can be configured to automatically adjust screen brightness depending on your environment. To enable Auto-Brightness, open the Settings app, tap "Display & Brightness" and toggle the "Auto-Brightness" switch to the On position.