Setting up your school email on your mobile device helps to ensure that you have access to important messages whether you're on campus or not. Take advantage of the Mail, Contacts, Calendars section in your iPhone's Settings app to set up a school email. Once you've configured the email for use on your iPhone, you can immediately begin sending and receiving emails using the native Mail app.
Set Up Your Email
Step 1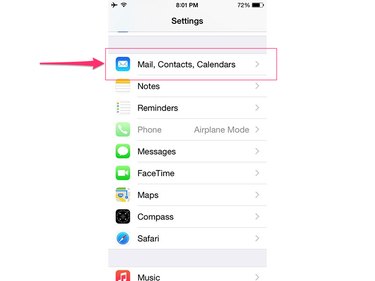 Open the Settings app on your iPhone and tap Mail, Contacts, Calendars. You may have to scroll down to locate this menu item.
Step 2
Tap Add Account under the Accounts heading.
Step 3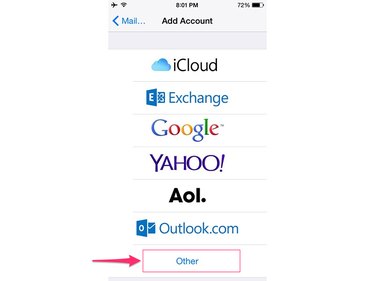 Select Other as your email account type.
Step 4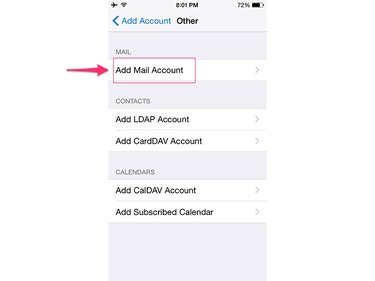 Touch Add Mail Account under the Mail heading.
Step 5
Enter your school email account information. The information you enter here is specific to your school. Check your school's website or contact its network administrator to obtain this information. To send and receive email from your iPhone, you need your personal school email address, username and associated password, as well as your school's incoming and outgoing mail server information.
Because accessing email from a mobile device is such a common request, most post-secondary educational institutions provide this information online.
Step 6
Tap Next and follow the wizard to provide the request information. On the final screen, your iPhone attempts to verify your settings to ensure you've entered all the required data. If everything checks out, the main Mail screen opens, where your school email now appears under the Accounts heading. Return to the home screen and open the Mail app to begin using your school email.
Customize Email Settings
Once you've set up your school email account, take a moment to customize how it sends and receives messages. Tap Mail, Contacts, Calendars in the Settings app and select your school email under the Accounts heading to change settings, such as how often your iPhone checks for new email on your school's server and how far back to go when storing copies of messages on the device. You might elect, for example, to only store 14 days worth of emails on the device so as not to take up too much space.
Alternative Email Apps
Mail is the default email management app used on iPhones, but it's far from the only available option. If you don't like the Mail app, the App Store on your iPhone has dozens of alternatives for download, many of which are free. While the procedure to set up your school account in one of these apps varies, the information you need to obtain from your school in order to set up your account is the same.