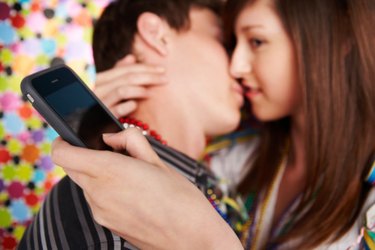 The iPhone -- a range of Internet-equipped smartphones designed and sold by Apple -- has access to the Internet via Wi-Fi and cellular data networks, allowing you to send and receive email whenever a signal is available. In order to send email, the iPhone's email app requires you to enter the details of your account's Simple Mail Transfer Protocol (SMTP) server. When checking more than one email account from the iPhone, multiple SMTP servers may be required for sending email. Removal of unused SMTP servers can be achieved through the iPhone's Settings app.
Step 1
Launch the iPhone's Settings application by tapping its icon on the home screen.
Step 2
Select the "Mail, Contacts, Calendars" option.
Step 3
Tap the entry for the email account you want to change in the "Accounts" section, followed by the "Account Info" button at the top of the next screen.
Step 4
Scroll down to the "Outgoing Mail Server" section and tap the "SMTP" button. If the SMTP entry you want to delete is currently switched on, tap its button and slide the "Server" switch to "OFF." Tap the "Done" button to return to the previous screen.
Step 5
Tap the entry for the SMTP server you want to delete in the "Other SMTP Servers" section.
Step 6
Tap the "Delete Server" button to remove the SMTP server from the iPhone.