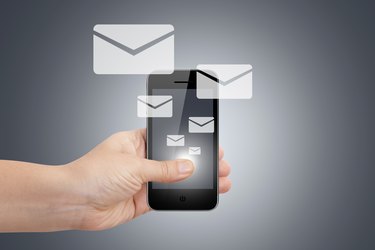 You can add multiple email accounts to an iPhone but you must add each one individually. If you're running iOS 8, your iPhone automatically loads some settings for some email providers, so you may be able to add an account by just entering your email address and password. In some cases, you must manually add or change your account's settings before your iPhone can verify and add your email address.
Choose Your Email Provider
IPhones have shortcut setups for iCloud, Microsoft Exchange, Google, Yahoo, Aol and Outlook.com email addresses. To add an email from one of these accounts, tap "Settings" and then "Mail, Contacts, Calendars." Select "Add Account" and tap your provider's button on the list. Your iPhone may also recognize other providers, even if they aren't on this list. To add an unlisted account, tap the "Other" button at the bottom of the screen and select "Add Mail Account."
Verify Your Email Account Automatically
Once you've chosen an email provider, enter some basic details. If you have an iCloud account, just type in your email address and password. For all other options, enter your email address and password and, if you want to add your name to the account or give it a title, fill out the "Name" and "Description" fields. Tap "Next" to start the verification process. If this works, you'll see ticks appear next to the fields you've just completed, and a synchronization screen will open. This shows the parts of your email account that will sync to your iPhone, such as Mail, Calendar and Notes. By default, these are all on; to turn any option off, tap its button. Tap "Save" to add the account.
Add Email Accounts Manually
If your iPhone can't verify an account, you will get an error message. If your username or password is incorrect, you may just need to correct it. Other messages may indicate that you need to manually enter or change your settings. Click "OK" or "Continue" on the error message to see the settings your iPhone is using. You need to check these against your email provider's settings, so you need to find out your account type, your incoming and outgoing server host names and port numbers and any relevant security details. Typically, commercial providers list these settings on their websites. Apple also has an online service that you can search to find settings by email address. Adjust the settings on your iPhone to make sure they match your provider's data and tap "Next" to verify the account.