SMTP, or Simple Mail Transfer Protocol, is a type of network connection that lets you send email. To send messages from your Go Daddy email account, use the account's SMTP server address to configure your email program. You can send up to 250 messages through Go Daddy's server per day.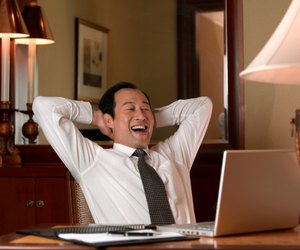 Step
Log into your Go Daddy email account at email.secureserver.net and go to the "Help" section, then "Email Client Settings."
Step
Write down the incoming and outgoing (SMTP) mail server addresses listed there.
Step
Open your email program and click "Add" or "New" in the toolbar to add a new account. Each email program is slightly different, so if you don't have this option in the toolbar, look in the "File" or "Tools" menu for the "add new email" option.
Step
Choose to manually configure your account if you're given this option. Many programs are manual by default.
Step
Add your name, email address and password in the user information fields.
Step
Choose either "POP" or "IMAP" as the connection type. Go Daddy supports both. POP deletes messages from the server when they're downloaded; IMAP leaves a copy on the server.
Step
Type your incoming server address into the box labeled for it. Enter "143" for the port setting if you're using IMAP. Enter "110" if you're using POP. Leave off the quotation marks.
Step
Enter the outgoing SMTP server address in the appropriate box and type "80" in the port field. You can also use ports 25, 3535 or 587 here. The SMTP ports are the same whether you use POP or IMAP. These are advanced settings; for most users, 80 is a good choice.
Step
Test the connection if your email client offers that option. If not, finish the configuration by clicking "Save" or "Finish." Your email will be sent through Go Daddy's SMTP server.