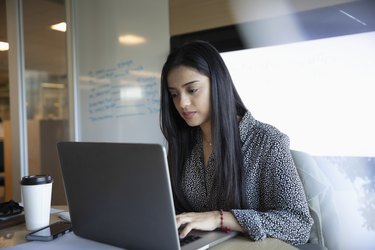 An SMTP server is a computer that you can connect to in order to send email from your account. If you have email through GoDaddy, you can connect to a GoDaddy SMTP server through your computer or phone to send email from that account. Get the GoDaddy email server settings from your account and enter them into your email program.
Email and SMTP Servers
SMTP stands for simple mail transport protocol. It's a communications standard for email programs, such as Apple Mail and Microsoft Outlook, to connect to servers in order to send email.
You can often send email through a webmail system such as Gmail or Yahoo mail, or one provided by your internet provider or domain name registry company, but it's often useful to also set up an email program on your phone or computer to send and receive mail. You'll generally look up the appropriate email server settings, including SMTP servers, in your account and enter them into your email app to send and receive messages.
GoDaddy SMTP Server Settings
GoDaddy is a company that allows you to set up website domain names, host websites and set up email for your business, among other services. If you are a GoDaddy customer with an email plan, you can access your email server settings by logging in to your account.
When you do so, you will see the SMTP server domain name and port number information that corresponds to your account. You can copy this information, along with your username and password, to your preferred email program in order to send email from your GoDaddy account. You should also capture the incoming server settings, including the GoDaddy port number and server address, to your email program, as you will need this separate setting configured in order to receive mail to your GoDaddy account on your computer or phone.
GoDaddy Email Settings on iPhone
If you're using an Apple iPhone, iPod Touch or iPad, you can set up your GoDaddy email information through the Settings menu. From the home screen, tap Settings, then tap Mail, Contacts, Calendars. Then, under Accounts, tap Add Account.
In the list of email providers, tap Other. Tap Add Mail Account. Then, enter your own name, your GoDaddy email address, a description that will help you remember what the account is and your GoDaddy email password. Tap Next.
Enter your incoming and outgoing mail server information as provided by GoDaddy. If you can't find this information in your account settings on GoDaddy's website, contact GoDaddy for assistance. Tap Next, and make sure the option to sync mail to your phone is turned on, and then tap Save.
You should now be able to send and receive GoDaddy mail through your iPhone. If you have problems connecting to your account, contact GoDaddy for assistance.
GoDaddy Email on Android Phones
If you're using the default email program on an Android phone and you need to set up your GoDaddy email, tap Menu and then tap Accounts. Tap Menu again and then tap Add account. Enter your GoDaddy email address and password, then tap Next.
Enter your incoming server settings as provided by GoDaddy, then tap Next and enter your outgoing server settings. Tap Next again, and you should be set to send and receive email.
GoDaddy Email and Other Software
Most email software for a computer or phone will give you options to set up an email account and enter your username, password and incoming and outgoing server settings. If you're not sure how to set up an account on your program of choice, take a look at the documentation or contact technical support.
Make sure to only use email programs you trust, since they will have access to your email, including any sensitive messages, and could also send email in your name.