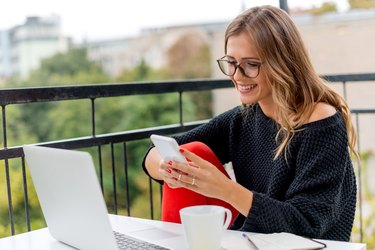 Whether you're backing up your contacts in case of data loss or creating an additional copy for your computer, it is important to sync your information in order to keep your contact information up to date. Whether you use MobileMe, Yahoo! or Google, your contacts can be saved and stored on multiple servers to prevent data loss.
Step 1
Connect your iPhone to your computer. Insert the wide, flat end of the USB cable into the bottom of the iPhone, then insert the other end into a USB slot on your computer. Your computer should automatically detect the iPhone.
Step 2
Open iTunes. For PCs, click the "Start" button and point to "Programs," "Apple" and "iTunes" to run the program. For Macs, click on the iTunes icon or click "Go" at the top of the screen followed by "Applications" and "iTunes."
Step 3
Click on your iPhone's name in the Devices toolbar. This will bring up a screen that displays information about your iPhone. Click the "Info" tab at the top of the iTunes screen. Check the "Sync Address Book Contacts" box and click "Sync Yahoo Contacts" or "Sync Google Contacts" if you use either of these address books.
Step 4
Click the "Sync" button. This will add your contacts to your computer, which you can edit later. Whenever you edit information on your phone or your computer, the next sync will match the information. Click the "Summary" button on the iTunes screen, then check the "Automatically sync when this iPhone is connected" box. Click "Sync" and wait until a message appears that says it is safe to disconnect your iPhone.
Step 5
Set up iPhone sync for MobileMe, Microsoft Exchange and Google. Free and paid subscription servers offer additional protection from phone theft or computer data loss by storing your contacts. Click the "Home" button on your iPhone, then tap the "Settings" button. Tap the "Mail, Contacts, Calenders" bar and tap "Add Account." Select the account you currently use, then enter your name, address, password and a description of the account. Tap "Save", and then "Fetch New Data." Swipe the "Off" button to the right so that it reads "On" on the "Push" tab. Tap the "Mail" button at the upper left corner of the screen to go back, and tap your account name under the "Accounts" section. Swipe the button on the "Contacts" tab from "Off" to "On," which syncs your address book from your phone to the server.