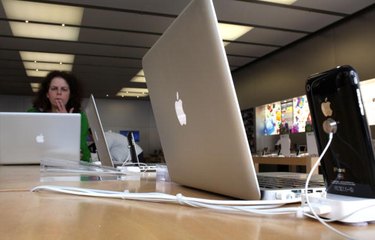 The Mail app on the iPhone works with most of the leading email providers including Gmail, Yahoo, Microsoft Exchange, AOL and Hotmail. When you set up an email account on your iPhone, it is automatically linked to your email account on the Internet so you can access your inbox from any Web-enabled device. You can set up the account on your iPhone, but you can also sync your email settings from the Mail app on your Mac. Syncing will copy your email accounts from your Mac to an iPhone.
Step 1
Connect your iPhone to your computer using the docking cable supplied with the phone. Plug the larger end of the cable into the bottom of the iPhone and plug the smaller end into your computer's USB port. Double-click the "iTunes" icon on your computer's desktop (or single click on a Mac) to open the program if it does not open automatically.
Step 2
Click the name of your iPhone under "Devices" on the left side of the iTunes window. Information about your iPhone appears in the center pane of the iTunes window. Click the "Info" tab above this center pane.
Step 3
Scroll down the info page to the "Email" section. Check the box next to "Sync Mail Accounts." Check the box next to the account you want to sync in the list below.