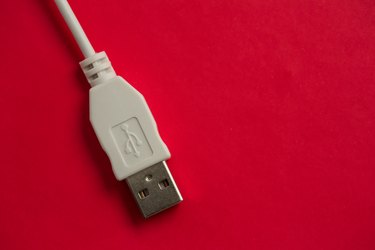 Transferring contacts from Microsoft Excel to your iPhone is a three-stage process. First you must export the contacts from Excel to a Comma-Separated Values, or CSV, file. From there, you import the CSV contacts into Outlook, the native email program on your Windows computer. Finally, you sync those contacts from Outlook to your iPhone via iTunes.
Export Contacts From Excel
Step 1
Click "File" on the main menu in Excel and select "Save As." Make sure you click "Save As" instead of "Save," otherwise Excel will save the contacts spreadsheet in the XLSX file format.
Step 2
Click the "Save as type" drop-down menu and select "CSV (Comma delimited)" from the list of available file types if you're using a Windows computer. If you're using a Mac, select "CSV (Macintosh)."
Step 3
Enter a name for the CSV file in the "File name" field, click "Save" and then click "Yes" to confirm that you want to use the CSV file format. Make a note of the location where you save the CSV file as you will need it again when importing the contacts into Outlook.
Import Contacts to Outlook
Step 1
Launch Outlook and click "File | Open & Export | Import/Export | Import From Another Program or File | Next."
Step 2
Click "Comma Separated Values" on the list of available file formats and then click the "Next" button. On the following screen, browse for the CSV file you exported from Excel and double-click it.
Step 3
Select how you want to handle duplicate contacts. You can replace duplicates, create duplicates or ignore duplicates altogether. Click "Next" when you've made your selection.
Step 4
Select the folder into which you want to import your contacts. The Contacts folder is selected by default, and for most applications this folder need not be changed. However, you may elect to create a new folder or import your contacts into another existing folder. Click "Next" when you are finished.
Step 5
Verify that the check box is checked next to the name of your CSV file, and then click the "Map Custom Fields" button. Map your fields by dragging and dropping contact data types together. For example, you need to drag and drop the name fields from your CSV file onto the corresponding name fields in Outlook. Drag from the left column to the right.
Step 6
Click "Finish" to finish importing your contacts into Outlook.
Sync With IPhone Via iTunes
Step 1
Connect your iPhone to your computer using its USB cable. Launch iTunes on the computer if it does not launch automatically. If you've connected your iPhone to your computer before, chances are iTunes will launch automatically.
Step 2
Click the name of your iPhone on the Devices bar in the upper right corner of iTunes.
Step 3
Click the "Info" tab on the horizontal menu bar and place a check mark in the "Sync Contacts With" check box. Select the Outlook email account into which you imported your Excel contacts, and then click the "Apply" button to transfer the contacts onto your iPhone. You may also have to click the "Sync" button depending on how your iPhone and iTunes are configured.