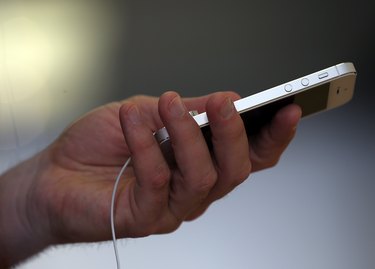 When the iPhone 5 goes into recovery mode, the screen prompts you to connect it to iTunes, something that might not be possible if you're away from home or out of the office. Sometimes you can get the phone out of recovery mode by powering it down and then turning it back on again. If this doesn't work, you'll have to connect it to iTunes at your earliest opportunity. This restores the iPhone to its factory settings, but you can install your latest backup when you set it up again.
Step 1
Launch iTunes on your computer. Connect one end of the iPhone connection cable to the computer. Do not connect the other end to the iPhone yet.
Step 2
Press and hold the iPhone's "Home" button and "Sleep/Wake" button at the same time. Release the buttons after about 15 seconds when the iPhone begins to power down.
Step 3
Press and hold "Home" button while you connect the iPhone to the computer using the USB cable it came with. Wait a few seconds for iTunes to recognize the iPhone. A dialog box opens indicating that iTunes has detected an iPhone in recovery mode.
Step 4
Click the "Restore iPhone" button. A dialog box opens, warning you that you are about to restore the iPhone to its factory settings and that your data will be erased. Click "Restore."
Step 5
Wait for iTunes to restore the iPhone. The process may take several minutes to complete. When it is done, the "Slide to Set Up" slider appears on the screen.
Step 6
Drag the slider and follow the onscreen instructions to set up the iPhone. When prompted, use a backup you made previously on iCloud or on iTunes to restore data.