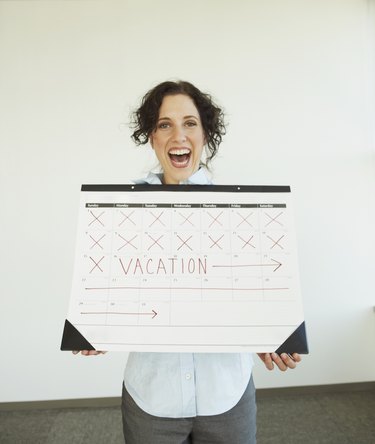 Keeping your calendars up to date helps to ensure you never miss an important appointment. If you have a Samsung smartphone or tablet running the Android 4.4 or 5.0 operating system, you can use the native Calendar app -- recently renamed from S Planner -- to sync your Google calendars onto the device.
Syncing Calendar
Calendar is the native planning and calendar app on Samsung's Android smartphones, including the flagship Galaxy S5. At the time of publication, Samsung devices come with Calendar preinstalled and configured to sync with all Google calendars connected to the S5's primary Google account. All you need to do is open the app and let it sync.
If your calendars aren't syncing as often as you'd like, you can perform a manual sync at any time to immediately synchronize calendar events with your Google calendar. To perform a manual sync in Calendar, tap the "Menu" button, a line of three dots in the top-right corner of the app, and select "Sync."
Adding Calendars and Alternative Apps
To add another calendar to Calendar, tap the "Menu" button in the top-right corner and select "Calendars." Tap the "Add Account" button, select "Google" on the list of available account types, select "Existing" and then enter the email and password associated with the calendar you want to add.
If you don't want to use the native Calendar app on your Samsung phone, download and install the Google Calendar app from the Play Store (link in Resources). This app is also designed to sync your Google calendars onto your Android smartphone. To download the app, tap the "Play Store" icon on the home screen of your Samsung device, search for "Google Calendar" and tap "Install" on the app's details page to download and install the app.
Because Calendar and Google Calendar are so similar, don't keep both on your Home Screen to avoid confusion. To remove an app from any of the Home Screens, press and hold its icon and then drag and drop it onto the Trash icon.