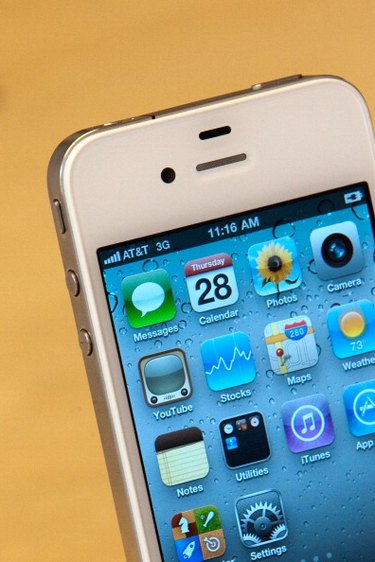 Apple's iPhone smartphone device features a "Calendar" application. There are two ways to add events to this application: manually, via the application itself and automatically, syncing calendars stored on the computer you use to sync with the device. If you want to remove all the events stored on the device, you must remove both types: events added manually must be removed manually, while events added automatically are removed by syncing your device with your computer.
Deleting Synced Entries
Step 1
Connect the iPhone to the computer via the USB connection cable that came with the device and double-click the iTunes application icon to launch the application.
Step 2
Click on the iPhone devices listed beneath the "Devices" heading in the iTunes application window. Click the "Info" tab to view the iPhone's syncing options.
Step 3
Remove the check mark next to the "Sync Calendars" option if you are a Windows user or the "Sync iCal Calendars" option if you are a Mac user. Click the "Remove Calendars" option when prompted to confirm that you want to remove the calendars from the device.
Step 4
Click the "Apply" button to apply the changes to the iPhone device. Allow several minutes for the iPhone to sync and remove all of the calendar entries from the Calendar app.
Deleting Manual Entries
Step 1
Launch the "Calendar" application by tapping the icon on your device's home screen.
Step 2
Tap the "Month" option to view the entire month. Days that have a manual entry added to them will have a small dot beneath the day's date.
Step 3
Select a day that contains an event to view the day's events. Tap on the event name beneath the calendar interface to view the event's details.
Step 4
Tap the "Edit" button, followed by the "Delete Event" button. Confirm that you want to delete the event to remove the entry from the iPhone.
Step 5
Repeat steps 3 and 4 for any events you manually added to the device.