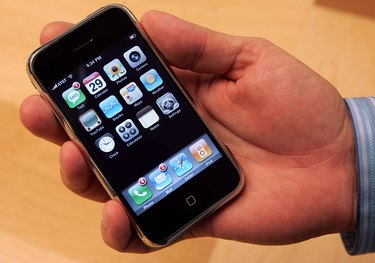 Synchronizing Microsoft Outlook's calendar with your Apple iPhone's calendar application automatically adds all appointments to both calendars, including the meetings or events for which you've accepted invitations in Outlook. If you don't want to receive reminders for these entries in the calendar on your iPhone, remove the appointments directly from the device's calendar application with the "Delete Event" tool.
Step 1
Tap the "Calendar" application icon on the iPhone's home screen.
Step 2
Tap the arrow buttons on the calendar's month bar to go to the month of the appointment that you want to delete. The calendar is divided into a grid showing each day of the month. Each day that contains an appointment displays a dot below the date.
Step 3
Touch the date in the calendar grid to view the appointment entry in the bottom half of the screen.
Step 4
Scroll to the time of the appointment you want to remove, then tap the appointment to open the entry.
Step 5
Tap the "Edit" button in the top right of the screen.
Step 6
Scroll to the bottom of the entry and then tap the red "Delete Event" bar. Tap "Delete Event" in the pop-up pane to confirm your choice and delete the event.