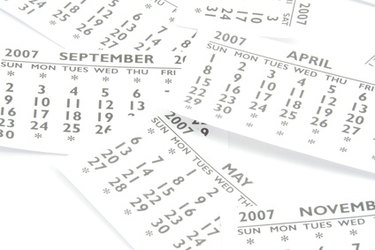 If you travel a lot, you probably use some kind of organizer to keep track of all of your flights and other daily activities. You can use iPhone as a personal digital assistant (PDA) by utilizing all of the features that the phone offers, including the calendar feature. You can add flights to your calendar and use the calendar notification function to remind you of upcoming flights. Adding a flight to your iPhone can be done directly on the iPhone and doesn't require any syncing to your iTunes account.
Step 1
Turn on your iPhone and unlock the phone to view the "Home" screen. Hold down the button on the top-right corner of your phone to power it on.
Step 2
Tap the "Calendar" icon on the "Home" page of your iPhone. Your calendar for the current month appears.
Step 3
Tap the "Plus" icon in the top right-hand corner of the screen to begin the process of adding your flight.
Step 4
Tap the "Title/Location" and enter the name of the flight. You might want to add the airline and flight number in the "Title" box. Enter a location for the flight. You can add the airport in this box. Tap the "Done" button to save your settings and return to the "Add Event" screen.
Step 5
Tap the "Start/Ends" box to enter a date a time for the flight. Scroll up or down to change the date and time from the date and time menu. Tap "Done" to save and return to "Add Event."
Step 6
Tap the "Alert" box if you want to be notified prior to the flight. Choose a time for the notification. This ranges from five minutes prior to two days prior. Tap "Done" to save and return to the "Add Event" screen.
Step 7
Tap "Done" in the corner of the "Add Event" screen and your flight is added to your iPhone calendar.