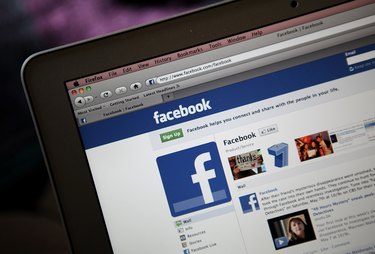 Countdown clocks allow you to share the number of days and hours until the birth of a new baby, wedding, sporting event, birthday or any special occasion. You can install a countdown clock on your Facebook page by installing the countdown clock app offered on the Facebook website. The app allows you to customize the color, time, date and type of event that you wish to display. The countdown clock can then be added to your wall, fan page or even a friend's wall.
Install the App
Step 1
Open your favorite browser, and visit the Facebook website at facebook.com.
Step 2
Login to your Facebook account using your email address and password.
Step 3
Visit the Timeanddate Countdown app at apps.facebook.com/tndcountdown.
Step 4
Click on the "Add to My Page" link on the left side of the screen.
Step 5
Click the "Add to Page" button to select the page that you want use with the app, and click the "Close" button.
Step 6
Click on the "Go to App" button at the top of the Timeanddate Countdown app page.
Step 7
Click on the "Allow" button to let the app access and post to your Wall.
Create the Countdown Clock
Step 1
Select an event by clicking on one of the tabs at the top of the screen listed under the "Event" heading.
Step 2
Type in the name of the event in the "Middle Text" box.
Step 3
Select a time zone for your countdown clock in the "Location" box.
Step 4
Type in the date and time of your event.
Step 5
Select a color for your countdown clock using the "Presets" menu.
Step 6
Check the "Wall Post Preview" to check that the countdown clock looks the way you want it to look.
Step 7
Select the place that you want to post the countdown clock to under the "Post to" heading.
Step 8
Click on the "Preview & Share" button.
Step 9
Add a personalized message for your Wall or Page, and click on the "Share" button.