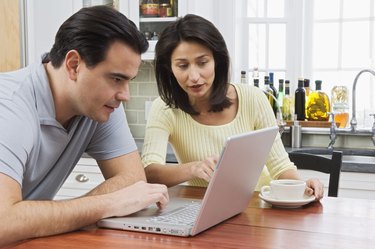 Your Facebook "status" updates are one of the main ways users keep in touch. When you post a new status update, anybody who subscribes to your feed sees the update. You can post what you're doing for the evening, share an insightful quote, or post a fun joke. If you want to add emphasis and style to these posts, you can underline text within your Facebook status. Facebook's default profile only allows underlining in chat messages and notes, but the free Bold Face Facebook app (see Resources) gives you underlining capability in status updates too.
Step 1
Visit Facebook.com and log into your Facebook account.
Step 2
Type "Bold Text" into the white box at the top of the screen.
Step 3
Click on the "Bold Text" application, represented by a silver and black logo containing the letters "BT."
Step 4
Click "Go to App." You will be asked to give the app permission to access certain Facebook settings. Click "Allow" to confirm the permissions request. Without this free app, you cannot add underlines to a status in Facebook's native interface.
Step 5
Click on the black "B" icon to deselect the bold text option. The bold option is selected by default in any status update sent via the Bold Text app.
Step 6
Click on the black "U" icon to select the underlining option.
Step 7
Type your status update from within the Bold Text app.
Step 8
Click "Send" to post the underlined status update to your wall.