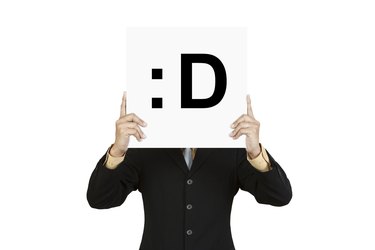 Emoticons and other graphical conversation accents give you a way to add flavor to your Facebook messages and status updates. Two methods exist for filling your chat log with colorful hearts; you can use Facebook's Sticker system or the social media site's built-in support for certain emoticons. Once you've picked the best method for your chat habits, you'll have easy access to colored hearts whenever you need them.
Using Facebook Stickers
Step 1
Open Facebook and log in to your account. Click the "Chat" button to begin a quick conversation with online friends. To see all ongoing conversations, click "Messages." Click "What's on your mind?" to start a new status update.
Step 2
Click the small smiley face icon next to the chat window to launch the stickers menu. Here you'll find all of the default Facebook stickers, in addition to any that you may have installed. This option is available in the Chat window and the Messages screen, but not on status updates.
Step 3
Click the smiley face icon to see basic emoticons. Click the heart icon to create a red heart in your chat log. Alternatively, type "<3" into the message box to quickly create this heart in conversations or in a status update.
Step 4
Press the "Enter" or "Return" key to send the heart to your contact in the Chat window. In the Messages window, click "Reply." To update your status, click "Post."
Using Copy and Paste
Step 1
Navigate to an online list of supported Facebook icons. Facebook supports many colorful emoticons by default; finding a library of these icons online (see Resources) gives you easy access to them without installing any extra Facebook features.
Step 2
Scroll through the available icons. When you find the heart that you want to use, highlight it with your mouse as you would any other bit of text. Press "Ctrl-C" to copy the emoticon.
Step 3
Click into the message box in your Facebook conversation. Press "Ctrl-V" to paste the emoticon and then press "Enter" or "Return" to send the emoticon to your conversation partner. Most of these icons work in status updates as well as messages.