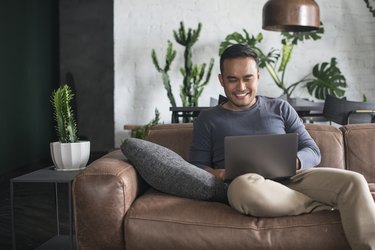 There are a few ways to type emoji and emoticons in Outlook if you want to insert a smiley face in an email or otherwise add some personality to your messages. On desktop versions of Microsoft Outlook, certain emoticons are automatically replaced with symbols when you type them using your keyboard. On web versions of Outlook, you can add emoji using a menu.
Desktop Outlook and Emoticons
Traditionally, you can type certain emoticons, meaning strings of text that represent an emotion, and they will be replaced by face images in Outlook.
For example, you can type the string ":-)" to insert a smiley face in Outlook and ":-(" to insert a frowning face. This is handled through the AutoCorrect options, so if you want to disable or change how these features work, you can configure it through Outlook's AutoCorrect menu.
Inserting Symbols in Outlook
You can also insert additional symbols, including emoticons and other characters such as hearts, by clicking the "Insert" tab in Microsoft Outlook, then clicking the "Symbol" button. Click "More Symbols" if you don't see the symbol you want, and browse various fonts for interesting characters.
Until recently, the AutoCorrect smileys were inserted using Microsoft's Wingdings font, so they wouldn't show up correctly on systems that didn't have this font installed. More recently, the company has switched to using standardized emoji that should show up on most modern computers and smart phones.
Web Outlook and Emoticons
If you're using Outlook or Hotmail on the web, you can insert emoji using a built-in menu.
While you're composing an email, click to place the cursor where you want the emoji to appear. Then, click the "Emoji" button in the bottom toolbar, below the message. Scroll through or search to find the emoji you want, then click on it to insert it into the message.
Emoji on a Mac
If you're using Outlook or any other program on an Apple macOS computer, you can insert emoji and other symbols through a built-in menu accessible from most apps.
While you're typing, place the cursor where you want to place the emoji, then click the "Edit" menu. From there, click "Emoji & Symbols." Scroll through the list or use the search box to find the emoji you want and click to insert it into your email or document.
Copy and Paste Emoji
If you're ever using an unfamiliar system and aren't sure how to insert an emoji into an email or document, you can try searching for the emoji online and using your operating system's copy and paste functionality to insert it.