When creating a form or other document requiring a date, a pop-up calendar helps the user choose a date without having to leave the document. Learn how to add the calendar feature using Microsoft Word 2013.
Adding the Developer Tab
Some tools in Word, including the pop-up calendar tool, are accessed through the Developer tab. The Developer tab isn't one of the default tabs on the tools ribbon. To add the Developer tab, select Options from the Start menu.
Choose Customize Ribbon. From the All Tabs menu, select Developer and click Add. To finish, click OK.
Inserting the Pop-Up Calendar
To insert a pop-up calendar, place the cursor where you want the calendar. From the Developer tab, click the Date-Picker. A field with an arrow appears on the document. Click the arrow to view the calendar.
Warning
The Developer tab may not be the first tab in your ribbon. Check the end of the ribbon instead if it doesn't appear as your first tab.
The user can click Today to insert the current date or select an arrow to go to a different month. After the user selects the date and clicks outside of the date field, the date appears in the space and the calendar is no longer visible. To see the calendar again, click in the date field.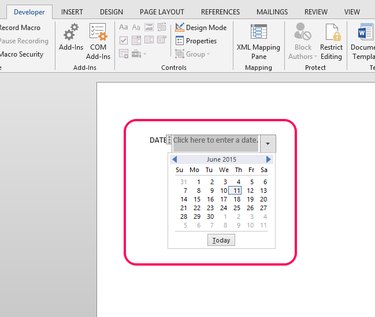 Tip
To see a different year, type a month and year and click the arrow. The calendar will open to that month and year and the user can select a date. This feature also comes in handy when the user needs to find the date of a certain day of the week.