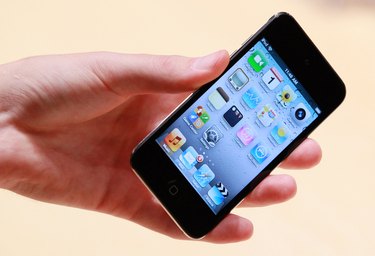 By default, the icons on the home screen of the iPhone are sized so as to be large enough to read while fitting as many icons as possible on the display. However, this may not be an ideal solution for the visually impaired. For this reason, the iPhone also includes an accessibility menu that allows you to change the size of the home screen icons by enabling the Zoom function.
Step 1
Tap the "Settings" menu from the iPhone home screen.
Step 3
Tap the word "Off" next to "Zoom" to turn the Zoom feature on.
Step 4
Return to the iPhone home screen.
Step 5
Tap the iPhone with three fingers twice in succession. The home screen icons will be magnified to 200 percent. To adjust the zoom level, touch the screen with three fingers then move them up to increase the zoom, and down to lower it. The next time you tap the screen twice with three fingers, the iPhone will automatically return to your custom zoom level.