The iPhone has a voicemail feature known as visual voicemail. This feature allows you to view a list of messages on your phone and select a message to listen to. In the background, however, your iPhone dials a number to retrieve or access your voicemail. You can change the 9-digit voicemail number from the default number that is assigned to the iPhone.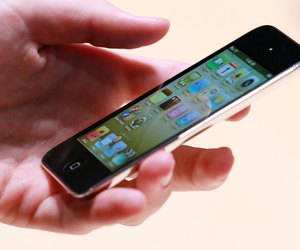 credit: Justin Sullivan/Getty Images News/Getty Images
Step
Turn on your iPhone by holding down the "Power" button at the top of the iPhone.
Step
Tap the "Phone" icon in the dock of your iPhone. This is a green icon with an image of a phone headset on it.
Step
Tap the "Keypad" in the bottom dock of the Phone menu.
Step
Enter the following: "_5005_86*123456789#." You can substitute the "123456789" with any 9-digit number you want to assign to your voicemail.
Step
Tap the "Call" button and the number is assigned to your iPhone.
Step
Dial the 9-digit number you assigned to your iPhone's voicemail and tap "Call" to make sure you have properly assigned a number to your voicemail. Your iPhone will display "Voicemail" when calling the number.