The iPhone's speaker provides a relatively wide range for listening, despite its small size. When the speakerphone is activated, or when headphones are not connected, the audio for any apps on the device plays through the primary speaker, and the volume for this speaker is adjusted with the same external buttons used to control the headphone volume. With a Wi-Fi network and a third-party application called iSpeaker, the iPhone can be used as a remote speaker for playing audio directly from your computer.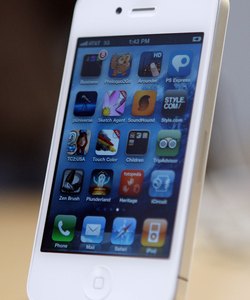 Step
Download and install iSpeaker from the official website (phantombility.com/en/prod/iSpeaker). Purchase and install the iPhone app as well, available through the iTunes App Store (itunes.apple.com/us/app/ispeaker/id315707535?mt=8).
Step
Click the Start menu and open the Control Panel. Select "Sound Options." In the "Playback" tab, select the Phantombility Virtual Audio Device output source.
Step
Click "Set Default" and "Apply."
Step
Connect your computer and iPhone to the same wireless network. The Wi-Fi settings for the iPhone are available in the primary Settings app for the device.
Step
Tap to open the iSpeaker app on your phone. Play the audio file you want to stream through your iPhone. With the iSpeaker app activated, you should hear the audio from your computer playing on the iPhone's speaker.