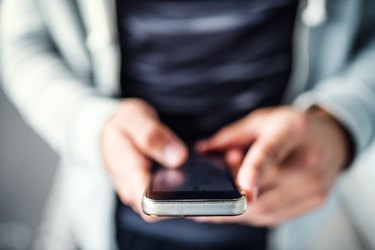 A good speaker can come in handy, especially if you're hosting a party or working on a home improvement project. You may not have a daily need for a speaker, though, which makes the extra expense not worth it. The good news is, you can use a phone as a speaker for TVs, laptops and other devices, as long as you have compatible devices like a Smart TV and track down the right app.
Use Phone as Speaker Aux
Before you try to use an iPhone or use an Android phone as Bluetooth speakers, it's important to note your goal. If your laptop's speaker isn't working, for instance, but your music is there, casting the music to your phone could serve as a great workaround. Although some apps will let you cast content from your laptop to various other devices, you'll need one specifically geared toward sending audio from your laptop to your phone.
If you want to use a phone as a speaker for TV, though, things get a little more complicated. Although some TVs set you up for auxiliary options for speakers, they aren't designed to have you use a phone as a speaker aux. There are some apps, though, that will let you listen to the audio on the TV in front of you, which can be very useful if you're trying to listen through headphones without disturbing others.
Use Phone as TV Speaker
One of the handiest ways to use an iPhone or use an Android phone as a Bluetooth speaker is to pick up audio from a muted TV. A great app to help you do this is Tunity, which scans the nearby TV, finds the current channel and plays audio on your phone. This comes in handy if you're in a sports bar and you want to hear the game or while watching TV while someone is sleeping nearby. But you can also use it to hear a TV with a damaged speaker.
Another handy app that will let you use a phone as a speaker for TV is LocalCast, which casts videos from your mobile device to a Chromecast, Apple TV or Smart TV. The best thing about apps like LocalCast is that it keeps the audio on both your phone and your TV, which means you can use your phone as a TV speaker if you'd like.
Use Phone as Laptop Speaker
Android cellphone owners can use Android phones as Bluetooth speakers for a laptop through an app called SoundWire. The free version lets you stream audio from a Windows or Linux computer to your phone. This is done through mirroring, which means whatever you play on your computer will automatically show up on your phone.
For iPhone device owners, you can use your phone as a speaker aux for your MacBook or PC through an app called Airfoil. The app is free, but you'll be limited in its features, so you may find you have to pay to get full use out of it. Using AirPlay, you can conversely send audio to an Apple TV or HomePod