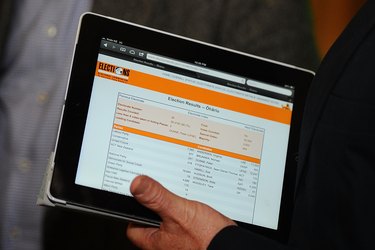 Apple models of Apple's iPad, iPad mini and iPad Air come with a built-in microphone. The iPad Air and second generation iPad mini released in November 2013 added dual microphones to the line. The microphones are not suitable for high-quality sound recording but they do dampen background noise to improve clarity. The microphones are suitable for voice recording and other services, and the addition of Siri to the iPad line means customers no longer need third-party apps to record voice memos.
Location
The dual microphones in the iPad Air and iPad mini are located at the center of the top of the device, between the 3.5-mm stereo headphone mini-jack and the on-off switch. The microphones are not visible because of the case, but there is a slot in the device's frame that allows clear sound to enter the device. These iPads have stuck with the line's traditional design of placing the speakers at the bottom of the device, which limits any interference or sound overlap with the microphones.
Apps and Uses
Apple's iPad Air and iPad mini support Siri and FaceTime, giving you native support for dictation and video calling. The updated dual microphone design provides improved support for voice recognition through Siri, allowing the microphone to act as a controller for your iPad. Support for third-party apps also allows you to dictate social media status updates, open apps, play music and more. To access the speech-control feature, tap the microphone icon on the keyboard.
External Microphones
If the built-in microphone does not suit your needs, such as for long dictation or phone calls using a voice over Internet protocol service, make use of the iPad Air and iPad mini's support of a variety of external microphones. Both iPads support Apple's earbud headphones, which have an attached microphone; these earbuds are distributed with the iPhone and also sold separately by Apple. Bluetooth microphones and headsets can also be paired with an iPad.
Positioning Consideration
The dual microphones in the iPad Air and second generation iPad mini have reduced background noise and provide a clearer sound than previous iPad models. Even with this design improvement, you'll experience reduced sound quality if you use a case that covers the microphone area. Some reviews have also noted that the microphones still pick up peripheral noise when recording video through the iPad's rear-facing camera, so you may want to position the microphone slot toward the sound source to improve the recording.