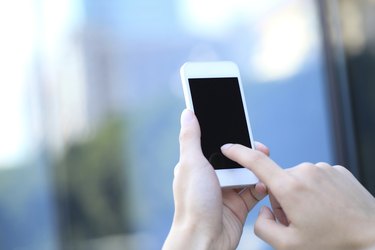 Apple's iPhone is a pocket-sized computer that uses installed applications to facilitate much more than phone calls. You can use the iPhone's built-in Phone app to place and receive calls, augment it with a VoIP app that enables free calling and messaging over the Web or use a better-performing third-party phone app instead.
Phone Function
To use an iPhone as a phone, you must first enter into a contract or prepaid plan with a carrier for voice calls, Internet service and optionally, text messages. Whether you use a secondhand or new iPhone, it must work compatibly with a carrier's GSM or CDMA network. Once a plan's in place, you can use the iPhone's Phone app to make and receive calls, review regular or Visual Voicemail, auto-reply and initiate call forwarding, call waiting, caller ID, call-blocking and conference calls. You can further customize ringtones and enjoy Siri-enabled hands-free calling, FaceTime video conferencing and Do Not Disturb tranquility.
Exterior Features
As of June 2014, you can readily buy an iPhone 5s or 5c model with 16, 32 or 64GB of storage -- or get an 8GB iPhone 4s for free with contract -- from a phone retailer, the Apple Store or Apple's website. The 5s and 5c sport a 4-inch touch screen and the 4s sports a 3.5-inch display. Both models sport the standard iPhone Home button, Sleep/Wake button, Ring/Silent Switch, volume buttons, speaker, headset jack, camera lenses, microphones and connection port. The metal band around the iPhone's edges -- or under the 5c's plastic casing -- serves as the device's cellular antenna. A SIM card carrying your phone number and calling-plan details rests in a side-slot on all GSM iPhones and CDMA iPhone 4s and later models.
Interior Hardware
The newer your iPhone model, the more advanced its mobile chip and the faster its performance. The iPhone uses its cellular radio to connect to your carrier's voice and data networks wherever you go, but only the 5s and 5c models can work with ultra-fast LTE networks. Three other wireless radios -- Wi-Fi, Bluetooth and GPS -- can connect you to the Internet and other devices and track your location. A built-in proximity sensor turns off the touch screen when you hold the phone close to your ear, and then on again as you move it away. A rechargeable lithium-ion battery powers the iPhone; on a 5s, it can sustain up to 10 hours of talk time on a single charge.
Native Software
The iPhone ships with the iOS operating system, which features dozens of native apps. Apple regularly updates them to add more features and resolve bugs; you can install these updates from within your Settings app. While iOS software regulates the iPhone's overall behavior, core apps enable diverse functions. Beyond the basic Phone function, core apps like Mail, Messages and FaceTime can help you communicate. Safari helps you navigate the Web, while Maps gives you directions for navigating in the real world. You can forgo core apps in favor of alternatives from the App Store.