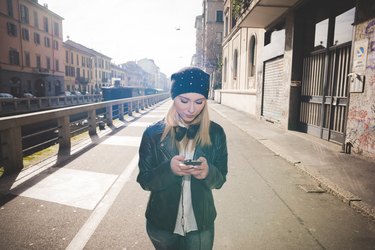 Everyone has seen the slick television commercials for the multi-functional Apple iPhone. The iPhone is more like a handheld minicomputer than just a phone. With all of its bells and whistles, the one thing that the iPhone is missing is a traditional instruction manual. And while it is fun learning how to use the various iPhone applications on your own, you can't do so until you activate your SIM card. With the proper equipment, Internet access and these instructions, activating your iPhone SIM card will be a quick and simple process.
Step 1
Purchase a phone and data service plan for your iPhone through AT&T. This can be done in person at an AT&T store, Apple store or over the phone.
Step 2
Straighten out one end of a paperclip and insert it into the little hole at the top of your iPhone. This will pop out the SIM card holder. Place the SIM card into the holder and reinsert it into the iPhone.
Step 3
Go online to www.apple.com and download the latest version of iTunes. You will be asked to register as an iTunes user. Follow the onscreen instructions. You may need to restart your computer following the iTunes download.
Step 4
Connect the iPhone USB cable to your computer and phone. This should automatically open iTunes. If it does not, open iTunes manually.
Step 5
Fill out the online form. You will be asked for your personal information as well as for the serial number of your iPhone.
Step 6
Sync your iPhone with iTunes and your SIM card will be activated.