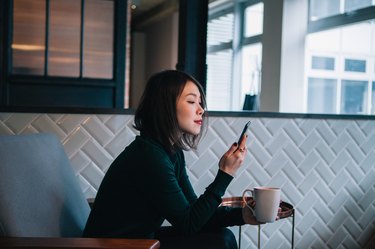 Smart phones have become so sophisticated, you can interact with them by merely talking to them. However, as with any electronic device, sometimes your iPhone may not work correctly. You can control your microphone's behavior in the iOS microphone settings, but where you go depends on the particular activity you're trying to do with your phone's microphone.
Change iPhone Microphone Settings
When you're using an app you downloaded, you need to grant permission for it to access the microphone. In the iPhone, you control app access in the settings, but you usually are asked to allow access when you first open the app after downloading it. If you ever have a problem using your mic while in a third-party app, though, go to the Settings app to troubleshoot it.
For issues that happen when you aren't in a third-party app, things are a little more complicated. If all is well with your iOS microphone settings, you may have a hardware problem. In some cases, fixing that issue is as simple as clearing away debris that has collected in your device's microphone. If that doesn't resolve it, you need to troubleshoot to see if it's time for a hardware repair.
Adjust App-Based Microphone Settings
If you're trying to use your phone's microphone, chances are it's through an app. Usually, when you first open an app that requires access to the microphone, you're asked if you want to grant access to your microphone. If you have problems with being heard through an app, you can always go into the iPhone microphone settings and allow access.
You enable microphone access in the iPhone Settings app. On your phone, go to Settings, then Privacy, and choose Microphone. Find the app you want to grant access and toggle the switch to the right. The switch turns green when the mic is enabled for an app. When it's turned off, it is gray.
Test Malfunctioning Microphone
If the problem isn't with an app you downloaded, fixing the issue isn't as easy as going to your iOS microphone settings. Your first step should be to remove anything you've attached to your iPhone, including cases and screen protectors. Then, look at the openings of the iPhone and clear away any debris.
An iPhone has three microphones. One is on the back side near the camera, and another is on the front at the top, also near the camera. There's a bottom microphone at the base of the phone next to where you plug in your phone to charge. If there's no sound at all, though, chances are it's not a debris issue.
To further narrow down the problem, test the front and rear microphones by shooting a quick video using each of the two cameras. If both of those work, check the bottom microphone using the Voice Memos app. This at least lets you determine which of your three microphones is malfunctioning. You should then turn your device over to an Apple authorized technician so that repairs protect your manufacturer's warranty.
If you're looking for your iPhone microphone settings because Voice Control isn't working, make sure you've set it up correctly. For this feature to work, you need to have iOS 13 or higher and take action to activate it.
To set up Voice Control to allow microphone access, iPhone users to go to Settings > Accessibility > Voice Control > Set Up Voice Control. Your device then downloads the app in the background. After the file downloads, you see a microphone on the status bar of your device when your microphone is listening to your commands.