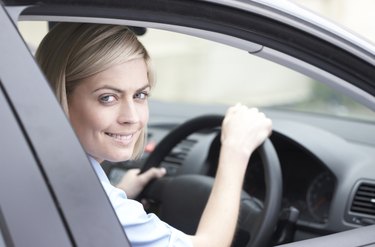 Newer cell phones are typically compatible with the Bluetooth wireless standard, which allows the phone to connect to and exchange data with other phones, computers and hands-free devices. Some luxury cars, like the G35 Infiniti, feature a Bluetooth-compatible audio system. Once the phone and the car's audio system are paired, incoming and outgoing calls can be routed directly through the speakers in the car, eliminating the need to take your hands off the steering wheel.
Step 1
Press the "talk" button located on your Infiniti's steering wheel.
Step 2
Respond to the voice prompts by saying "setup," "pair phone," and then "new phone."
Step 3
Set your phone to discover nearby Bluetooth devices.
Step 4
Choose your G35 Infiniti from the list of devices.
Step 5
Enter "1234" when the phone prompts you for a passcode.
Step 6
Say a name for your phone.
Step 7
Choose the priority level you desire for the phone. If there are more than two Bluetooth devices paired with your Infiniti, it will connect to the one with the highest priority.