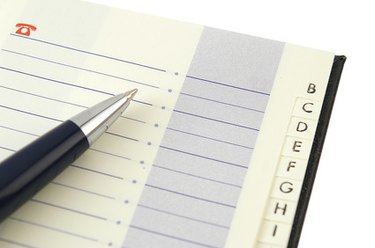 Although your phone number is given to you at the time of activation of your new iPhone, it is also conveniently located in the iPhone's settings and the Phone application, and can be edited in the settings window. When your virtual business card (vCard) is accessed in the Phone application on the iPhone, you can also add additional contact information. While in the phone's Settings you can also create a Personal Identification Number (PIN) for your SIM card, as well as change your voicemail password.
Step 1
Press the Home button, and unlock the iPhone by swiping the lock-bar to the right.
Step 2
Tap the Settings icon on the screen, and drag your finger up against the iPhone's screen to scroll down to the "Phone" tab. Tap the "Phone" tab. Your phone number will be displayed on the "My Number" tab.
Step 3
Tap the "My Number" tab to edit your current number, and tap the "Save" button in the upper-right corner of the screen to save the new number.
Step 4
Press the Home button on the iPhone, and tap the "Phone" icon on your screen. Tap the "Contacts" icon at the bottom of the screen, and tap the first letter of your name. Tap your name to view your phone number.
Step 5
Tap the "Edit" button to make changes to your contact information, and tap "Done" to save the changes.