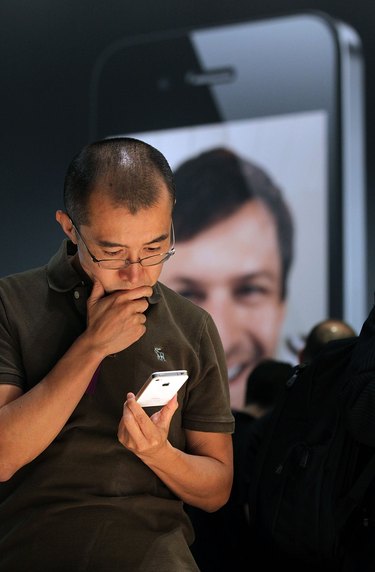 When your iPhone or one of its applications malfunctions, a crash report is generated and stored on your device – typically as a CRASH, PLIST or LOG file. Because these reports are relatively small and replaced by new crash logs every few days, you needn't worry about the space or resources they consume on your device. That said, an iTunes sync can wipe crash reports from your device and copy them to your computer for future reference. It's more important to periodically purge the iPhone crash logs that you accumulate on your computer because collectively they can grow considerably over time.
Remove Crash Logs from iPhone
Step 1
Tap "Settings" on your iPhone, followed by "General." Next, choose "About," followed by "Diagnostics & Usage" and "Diagnostic & Usage Data." Observe the list of crash, usage and diagnostic reports logged on your device. If you wish to review the detail of an individual item, tap it.
Step 2
Launch iTunes on your computer. Next, connect your iPhone using its supplied USB cable. Choose your iPhone's name under Devices in the left sidebar.
Step 3
Click "Sync" in the lower right corner of your desktop's screen. The sync process begins and advances through several steps. You can check its progress in the area above the main pane's navigation bar.
Step 4
Return to Diagnostics & Usage Data screen on your iPhone. You'll see that most, if not all, the previously logged items no longer appear, having been copied to your computer and erased from your device during the sync.
Erase Crash Logs from a PC
Step 1
Open File Explorer on your computer. Type "%APPDATA%" in the address bar and then press "Enter."
Step 2
Navigate to Apple Computer\Logs\CrashReporter\MobileDevice\YourIPhoneName. A list of previously synced crash log files display.
Step 3
Position your cursor within the file directory and press "Ctrl-A" to select all files. Alternatively, Ctrl-click select files only, then press "Delete" to erase the files.
Tip
The full path address of your iPhone's crash reports on a PC is C:\Users\YourUserName\AppData\Roaming\AppleComputer\Logs\CrashReporter\MobileDevice\YourIPhoneName.
Follow the same procedure to remove crash reports from a Mac. To get to the files, open the Finder. Choose "Go" from the menu while holding down the "Option" key to make your Library directory visible. Click "Go to Folder" and type -- or copy and paste -- "~/Library/Logs/CrashReporter/MobileDevice/YouriPhoneName" in the dialog box.
With permission, crash logs are sent anonymously to Apple and iPhone app developers to help them improve their products and software. If you don't want to use any of your iPhone's resources on crash reports or are concerned about privacy issues, don't share them. Tap "Settings | General | About | Diagnostics & Usage | Don't Send."
Warning
Information in this article applies to PCs running Windows 8.1 or OS X Mavericks. It may vary slightly or significantly with other versions or products.